It is often hard to picture people going strong and ripped well into their old age. No matter who you are, a person's body does not remain the same forever. However, Tony Horton is an individual whose body functions as correctly as it did in his prime days. Not only that, but he looks as if he never aged. Read this to know Tony Horton's Wife, Shawna Brannon.
The famous Tony Horton is a fitness trainer who appeared on DVDs back in the days. Through his DVDs, people could train in the comfort of their homes with minimal gym equipment. Known for his workout series P90X, P90X2, and P90X3, Horton was one of the most admired trainers of all time. He comes to us from Westerly, Rhode Island.
Please read this article till the end to know about his illness and his net worth.
Tony Horton is a Celebrity Personal Trainer
Being the son of an army, Tony had legit aspirations to build a firmer body. He began taking weightlifting classes during his time at the University of Rhode Island. Not only that, but Tony wanted to influence the millions across the world with his workout results.
Regardless, Tony began his journey by focusing on the kind of body he wanted. Tony relied on improving his speed, flexibility, and balance.
Unlike most trainers, Tony Horton does not have any certifications that allow him to practice his profession. Instead, he relies on years of experience in training local people, celebrities, and groups.
However, to get to where he is at the moment, Tony studied tri-athlete Mark Sission's training methods of speed, drills, endurance, and interval training. Over time, Tony mastered his style of training that focused on yoga, cardiovascular and resistance, kickboxing, etc.
These custom training methods cemented Tony as one of a kind trainer. Soon, Men's Fitness Magazine took a keen interest in his exercise techniques. Thousands of people came to know about him in the process.
At one time, Tony went on to work as the on-camera spokesperson for Nordic Track. Combined with his motivational skills, he could persuade anyone to follow his techniques to get results. It was only a matter of time when top clients were ready to hire him.
Training Celebrities
Through people's recommendations, Tony got the opportunity to train musician Tom Petty. This generated a chain of recommendations as Tom Petty referred him to other celebrities after getting visible results.
By the late '90s, Tony signed significant deals with a prominent Hollywood studio, Touchstone Pictures. Likewise, he shaped up the entire cast of The 13th Warrior.
Seeing the progress Tony was making, the elite people of Hollywood made him their personal trainer thanks to his excellent workout regimen. Some of the VIPs that Tony trained were Billy Idol, Shirley MacLaine, Annie Lennox, Sean Connery, to name a few.
Beachbody Personal Trainer
Tony met Beachbody's president Carl Daikeler in 1996 and became his fitness trainer. And in only 90 days, Carl saw remarkable changes in his body that he never imagined having. Thanks to Tony's unique training system, he began working as head trainer in Beachbody.
This was when he gained prominence due to his in-home exercise videos such as Great Body Guaranteed!, Power 90, Power Half Hour, Power 90X, 10 Minute Trainer, and Power 90X Plus.
Net Worth & Income Sources
Tony Horton, at the age of 63, has a net worth of $20 million. His primary source of income is through his profession as a personal trainer and on-screen fitness expert.
His DVDs containing his custom exercise programs sold 3 million DVD sets just for his P90X program. In the end, Beachbody generated more than $17.5 million and gave Tony his fair share.
Besides this, Tony's profession as a personal trainer of celebrities helped him earn more wages. It is reported that when Tony was giving out lessons to executives at 20th Century Fox, he charged them $20 per lesson back in the 80s.
After parting ways with Beachbody, Tony launched his line of selling supplements and products called Power Life, his current income source. Also, he sells a wide range of hair products, shampoos, conditioners, oils, etc., through his brand called TH Care by Tony Horton.
He has a Wife, Shawna Brannon.
Tony Horton is married to his wife, Shawna Brannon. Before changing his sexuality, he used to be gay. Nonetheless, Tony tied the knot with his wife on October 4, 2015. Shawna and Tony's wedding took place at a private venue.
Horton was 57 at the time of his marriage, whereas Shawna was assumably 36 as she has not revealed her exact date of birth.
Despite being the wife of such a prominent figure, Shawna prefers to maintain a low-key profile. As a result, there is not much information regarding Shawna Brannon.
However, some sources claim that Shawna is also a fitness professional and helps her husband in his work. The pair also posed for a marketing photo of Horton's products.
So far, Tony and his wife Shawna Brannon do not share any children. However, they have two dogs.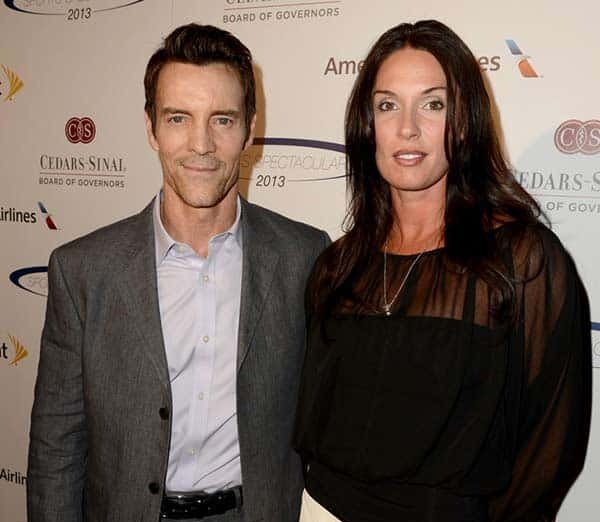 Tony Horton Gay
Everyone has their path in life. Some choose a righteous path; others walk an opposite route. So says Tony himself. Before tying the knot with his beautiful wife, Tony used to be a proud gay.
In the past, Tony had numerous sexual encounters with his homosexual partners. He considered this to be fun and found no guilt whatsoever. Moreover, he hated whenever someone told him that his life was wrong.
However, it all changed when Tony realized that his path in life was a sin and would lead him to hell. He came to this realization when he turned his religion into Christianity. Soon after devoting himself to Lord Jesus, Tony began a new chapter in his life with moral value.
Tony accepts the sinful life he lived during his early life and promises to leave it all behind. It has been well over seven years that Tony has been out of heterosexual life. He claims that he was satisfied when he was gay. But now, he is happier than he was back then. The reason is that Tony lives for God and follows the instructions of the Bible.
But more importantly, Tony now has a loving wife he vowed to love until the last breath.
Age and DOB
Anthony Sawyer Horton Jr., best known to people as Tony Horton, was born on July 2, 1958. Hence, as of 2021, he is 63 years old.
Tony Horton Illness
Being physically fit does not guarantee perfect health. Even fitness experts are a victim of medical conditions. Tony Horton, whose Instagram is often filled with videos regarding exercise and motivational speeches, uploaded a post saying he was diagnosed with a rare disease. This made the fans worry about him.
Back in 2017, Horton suffered from a neurological disease known as Ramsay Hunt Syndrome. These are the kinds of illnesses that are the aftermath of too much stress.
Initially, Tony Horton experienced a slight pain on the right side of his head and a tingling sound in his ear. Soon, he noticed that he could not whistle nor close his right eye. All in all, some odd things were going on with his face.
As time progressed, he began drooling when he tried to drink water, and there was severe pain and a burning sensation. After going to the hospital, the doctors diagnosed Tony with a disease known as Ramsay Hunt Syndrome. In a couple of weeks, Horton's symptoms got worse. He started to experience vertigo and vomiting.
Luckily, Ramsay Hunt Syndromes are often treatable with drugs without any side effects. Currently, Horton is on an anti-viral prescription that includes medication and steroids. Horton dealt with vertigo even after pills and had different eye blinking rates. As of now, Horton is doing fine.
Affect on Personal and Professional Life
Someone as energetic as Tony Horton was left motionless for a year due to his illness. One could hardly imagine how difficult it must have been for Horton to live with the pain every day. Tony Horton revealed in an interview that the death of his good friend, Tom Petty, and witnessing the devastation of the Las Vegas shooting on the same day triggered this disease.
This had a significant impact on his life. Tony went on to lose 25 pounds. We know that Tony is a fitness trainer who is known for his robust and explosive workout routines. But the illness put a stop to his career track at 59 years of age.
But Horton is not the one to give up on his life that quickly. Horton believes that the only way to heal from any disease is to exercise, eat whole foods, and have the right mindset. With this holistic approach, he began focusing on diet and performing light exercises such as meditation and yoga. At the same time, Tony Horton also managed to control his stress levels. Tony also launched Power Nation to provide the fans with the same resources.
The motivation towards being back to his former self was not because he wanted to heal quickly. Instead, he wanted to be the best version of himself for his wife and dog, the only two that mean the world to Tony.
Supplements and Products
Tony Horton is a dedicated fitness expert who wants people to take care of their bodies to the fullest. Apart from doing regular exercises, one should also consume the necessary nutrients from their diet to get effective results. However, natural nutrients are not always sufficient to get the outcome one is looking for.
Horton has a wide range of products he developed after he departed from Beachbody at times like this. Tony began his brand of supplements known as Power Life. Depending on the need, the supplements from Power Life are focused on individuals who want to improve protein digestion, muscle building, strength, and endurance.
Here is the Breakdown of Tony Horton Supplement Line
Foundation Four – Energy and digestion.
High Impact Endurance (Capsule)– Natural muscle recovery, energy, and stamina
Foundation Digest (Capsule)– Improve digestion of carbs, fats, and proteins from the diet
Peak Lean Balance (Capsule) – Losing weight and unwanted fat
High Impact Performance – Naturally increase physical stamina
High Impact Plant Protein and High Impact Whey Protein.
These supplements' prices range from as low as $60 to $80. One may buy them as a bundle in three or six jars according to their needs and benefit from the discounts.
For instance, one can save 16% by buying six jars of High Impact Performance. Horton provides a 90-day money-back guarantee should the product not work for the clients.
Besides this, one can also shop for apparel and accessories under the brand name of TH Care by Tony Horton through his website. He recently began including gym equipment such as different sets of dumbells, varied sizes of resistance bands, etc.
Income from supplement sales adds to Tony Horton's net worth.
Tony Horton Leaves Beachbody
Everyone knows Tony Horton as the energetic fitness expert on TV. Thanks to his association with a recognized American wellness and media company known as the Beachbody, Tony has reached a wider audience. His ideas and creation of home workout routines have helped him and the company reach new heights by creating workout series like P90X, P90X2, and P90X3.
Beachbody was established almost 23 years ago from now. For two decades, Beachbody has helped millions of people to live a healthier lifestyle through proven fitness, thanks to the contribution of numerous fitness experts. It continues to do so through streaming services like YouTube and Netflix.