There are many trainers in the world known for many reasons. But trainers like Bob Harper have their way of attracting attention. Many may know him as the trainer from NBC's The Biggest Loser. Others may recognize him for being gay.
No matter which reason, Bob Harper has been in the talks recently, especially ever since he suffered from health problems. Nonetheless, Bob Harper is an experienced personal trainer with over two decades of experience in body transformation.
This article is all about his gay partner Anton Gutierrez
Bob Harper is a Personal Trainer
Bob attended Austin Peay State University to pursue education. However, he never completed his studies. Despite not graduating from his alma mater, Bob went on to have a successful career.
He took training from American Fitness Training of Athletics to obtain a certificate as a personal trainer. Likewise, he further continued his education by getting a level four certificate from the Aerobic and Fitness Association of America.
He practices Transcendental Meditation and is an avid CrossFit athlete. Initially, he was a vegan but changed to eating meat as his body demanded more nutrition. Moving forward, Harper worked in gyms and fitness clubs. He has over 20 years of experience in physical training and has helped countless people get into shape.
Bob has also released various DVDs of his workout routines which people can buy and follow along.
As of now, he is the brand ambassador of a fitness platform known as NEOU.
Trainer on TV
Not only that, but Bob took his fitness skills to the TV shows. His very first appearance on TV was when Harper appeared on The Biggest Loser. It was a show where overweight and obese contestants attempted to lose weight with the help of their trainers. The winner receives a cash prize for losing the most weight. Bob helped hundreds of people lose considerable weight.
Bob's appearance on TV helped his popularity to grow substantially. Following this show, Harper again featured in the first three seasons of the Australian version of the same show.
Bob Harper Sexuality
It is no surprise that Bob Harper is gay. After all, he tied the knot with a same-sex man.
For a very long time, Bob knew that being sexually different in society was a tricky thing. But living the rest of your life knowing that people will treat you differently otherwise normal is even more haunting. This is the reason why many intergender like Bob hesitate to come out publicly. Little does the world know what dire consequences this suffocating life could have on them.
Nonetheless, it took Bob great courage and effort to come out publicly as a third-gender person. Not only that, but he came out publicly as gay during the fifteenth season of The Biggest Loser in 2013. This happened when Bob talked to a contestant named Bobby, who was having trouble revealing his sexuality to his parents.
Though Harper has kept his private life in the shadows for most of his career, he made a sacrifice to console Bobby. Harper revealed that he came out to his parents at 17. And he knows the fear as Bob's parents were equally stern as Bobby's. This was the first and the last time ever that Bob addressed his sexuality publicly before making it official by tying the knot with his partner Anton Gutierrez.
But Bob understood that there would be so many obstacles in his life moving forward. Starting from his family, who showed plenty of repressions. Even so, Bob accepted his fate and lived freely. In his words, being gay does not make you weak or a minor person in any way.
Though the world may have conflicting thoughts on this, Bob successfully boosted Bobby's morale, who promised to talk with his parents again.
Bob Harper is Now Married to a Boyfriend Turned Partner, Anton Gutierrez.
Bob Harper keeps his life away from the media as much as he can. Though he is a celebrity trainer familiar to thousands of people, Bob does not feel comfortable revealing his life's details to the public, and understandably so. As a result, there is no information about when Bob began his love story with his new husband, Anton Gutierrez.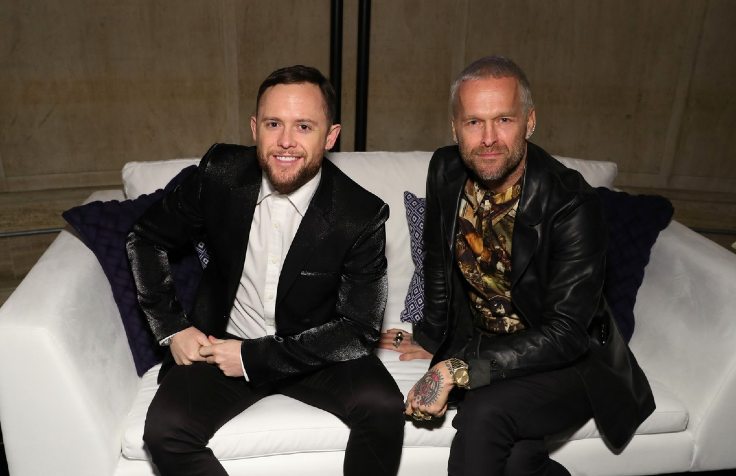 How Did They Meet?
Some sources claim that the two met somewhere in 2014. However, there is no actual date of when Bob and Anton began dating one another. Anton is a successful actor and set decorator who might have met Bob through a creative venture. Gutierrez and Harper made an appearance together on an episode of Oprah: Where Are They Now as well.
There are rumors that they got close due to their shared interest in health and fitness. Nonetheless, the couple made their relationship official in November 2015 after posting a photo of them kissing in West Hollywood. Likewise, Bob popped the question to Anton when dating in their favorite restaurant in New York.
Marriage
Harper tied the knot with Anton in June 2019 after having affairs for three years. The whereabouts of their wedding ceremony are still a mystery. But the couple shared a picture of their hands on top of each other's hands to show off their wedding ring, crediting their jewelers, Cartier and Via Carota.
Besides this, Bob and Anton are very open about their relationship on social media. The two share numerous intimate pictures of one another. Bob once said that Anton would make a great sous-chef as he likes to boss him around in the kitchen.
Not only that, but Anton was there the whole time his partner suffered from a fatal heart attack that almost took his life. This proves how strong Bob and Anton's love is. Indeed, the two have a wonderful love life.
Who is Anton Gutierrez?
Anton Gutierrez is best known as the husband of The Biggest Loser trainer, Bob Harper. Anton has come into the limelight ever since tying the knot with Bob. Before this, he was not a famous individual. Hence, there is not much information regarding him.
Multiple sources claim that Gutierrez is an actor and set decorator. His prime duties are to take charge of populating sets with characters and props on TV, movies, or commercials.
Unlike his better half, Anton prefers to live a private life. Though he keeps posting pictures on Instagram, he rarely shares anything in detail. Other than this, we know that Anton is a tattoo lover who has inks on the shoulder, back and chest. Similarly, he is a great chef in the kitchen, as told by Bob Harper.
Net Worth and Income Sources
According to sources, Bob Harper has a net worth of $4 million as of 2021. His diverse career as an actor and fitness trainer has helped him achieve such a staggering wealth.
Initially, Bob began as a personal trainer and helped dozens of people get into the best shape of their life. He is also a celebrity personal trainer who has helped famous stars like Jennifer Jason Leigh. A typical personal trainer earns up to $56,670 in Tennessee.
That was his only source of income until he got an opportunity to show his talent on tv through NBC's reality series called, The Biggest Loser. It was a prominent show that helped Bob bag in massive wealth for each episode he played.
Not only that, but Harper has appeared in several workout videos available as Biggest Loser DVD. Additionally, other than his tv career, Harper also teaches yoga and regular fitness classes in Los Angeles.
His very own first workout DVD series titled Bob Harper: Inside Out Method was a best-selling series. Finally, he also made a couple of extra bucks by contributing to the Shape magazine website.
Age & DOB
Bob Harper is a prominent personal trainer who was born on August 18, 1965. As of 2021, he is 56 years old.
His First Wife and Dating History
As of now, we know that Bob Harper is married to his boyfriend, Anton Gutierrez. Not only that, but Harper has been gay since he was a teenager. As a result, he never felt the same way for women as he did for men.
Before meeting Anton, Bob was not in a relationship with anyone. Though rumors claim that he was having an affair with fellow female colleagues, these assumptions are all fake.
Bob married his one and only partner at 55, as same-sex marriage was not allowed back then. So far, they do not share any child.
Bob is an Ambassador of NEOU
NEOU is a platform that brings fitness classes from experts worldwide to the people in an accessible and affordable manner while also providing fitness instructors with the opportunity to digitally scale their business to a larger audience.
This platform made a massive announcement in 2021 by dropping the news of signing The Biggest Loser trainer, Bob Harper, as their brand ambassador. With years of experience in fitness, wellness, and health, Bob is sure to bring considerable influence and innovative ideas to NEOU.
Bob got down to business soon after joining NEOU. He collaborated with NEOU to launch his Weight Loss Starter Pack on the same platform. He also handpicked lessons to help people lose weight by discovering the best workouts to achieve their goals.
Also, Bob is leading the search for NEOU's Next Fitness Superstar to discover great instructors like him so that people can recognize undiscovered fitness talents on a big platform.
All in all, this will help NEOU in a variety of areas, including content, marketing, advertising, and social media. His presence is a massive addition to the NEOU community. Likewise, Bob is stoked to bring out the best version of himself as this is what he has been working on his entire career.
Suffered Heart Attack in 2017
A man as healthy and fit as Bob Harper suffering a devasting heart attack back in 2017 made plenty of people question the purpose of working out. Being fit does not always mean a person will stay healthy throughout the rest of his life. It is true that doing exercises and keeping yourself fit will reduce the chances of disease susceptibility.
Bob is in his mid-50s, and it is normal for people of this age group to suffer from heart attacks. But more factors cause heart attack other than age. One of them is genetics. Most of Harper's family members were patients of heart attacks. Hence, it was only a matter of time that he became one too.
Bob's medical reports show that high levels of Lipoprotein(a) or Lp(a) found in his blood resulted in excessive amounts of cholesterol in the arteries. The condition was severe as diet, exercises, and lipid-lowering medications would have little to no effect on those levels. This exposed Bob to some serious cardiovascular problems.
Harper was working out in the gym when he suddenly collapsed. For a brief moment, Bob was dead. But he was fortunate. A doctor was present at the gym who quickly administered CPR. Also, he activated an automated external defibrillator and delivered a powerful electric shock to restore his normal heart rhythm. Soon, the paramedics arrived and carefully moved Harper to a local hospital. He was in a coma for two days.
Suffering from a heart attack made Bob realize how a person's life can change in a moment. He is grateful for the time he has now and wants to focus on making the most out of every day.
Bob Harper Credits His Dogs for Quick Recovery
Bob Harper is a huge dog lover. He has two dogs Karl Lagerfeld and Vivienne Westwood. Bob named them after two of Bob's favorite fashion designers. Both dogs follow Bob wherever he goes, such as gym, work, etc. While Bob was in the recovery process, his dogs have been by his side to cheer him up the whole time.
Not only that, but Bob's pets gave him strength and motivation during his recovery process. This is why he wants to experience joy with his two dogs every moment he gets. Two days before he was discharged from the hospital, Harper's friends brought his dogs as they felt it would be the best healing medicine for him. Indeed, it was.
One of Bob's friends, Conaway-Murphy, is well aware of how close Harper is towards his dogs. Surely, Karl Lagerfeld and Vivienne Westwood were the best medicine for Bob's mental and physical recovery.
Bob Harper Suffered Backlash
It is unlikely for a man as fit as Bob, a trainer at The Biggest Loser, to suffer from medical conditions. After all, exercises were supposed to keep one healthy. This is why many of his fans questioned the authenticity of doing exercises if it had no positive impact.
However, in his defense, heart disease is the leading killer of men and women in the United States, and Bob carried the gene of this disease from his family. The former trainer of The Biggest Loser suffered the loss of his mother with a heart attack too.
Statistical reports reveal that about 735K Americans suffer heart attacks every year. Among which, the people of age group 40-59 have 3% men and 2% woman have heart attacks. Unfortunately, Bob belonged to that percentage of men.
Besides this, many believed that vigorous exercise could also trigger the onset of a heart attack. Though it rarely is the case. Doctors suggest that a heart attack could occur to anyone, and everyone should keep track of their blood pressure and cholesterol numbers at all times. Likewise, one should never overlook the warning signs of a heart attack. It can be symptoms such as chest pain, high pressure, and repeated shortness of breath.