Many famous influencers live their lives without so much care as to their followers. Tammy Hembrow, on the other hand, lives for the well-being of her audience. She might be an entrepreneur/influencer, but her legacy is firmly rooted in her career as a fitness model. As such, she usually gets a lot of attention from tycoons, rappers, and fans alike. If you're here looking for her current relationship status, then you're in the right place. Here's Tammy Hembrow's net worth, husband/boyfriend, age reveal, and more.
Tammy Hembrow As A Fitness Expert
Growing up in Australia as a teenager, Tammy made a lot of bad choices. Particularly those related to partying, smoking, and underage drinking. However, she made a conscious decision to turn her life around by embarking on healthy living through working out. Little did she know that documenting her gym sessions on Instagram would later give rise to her career as a fitness expert.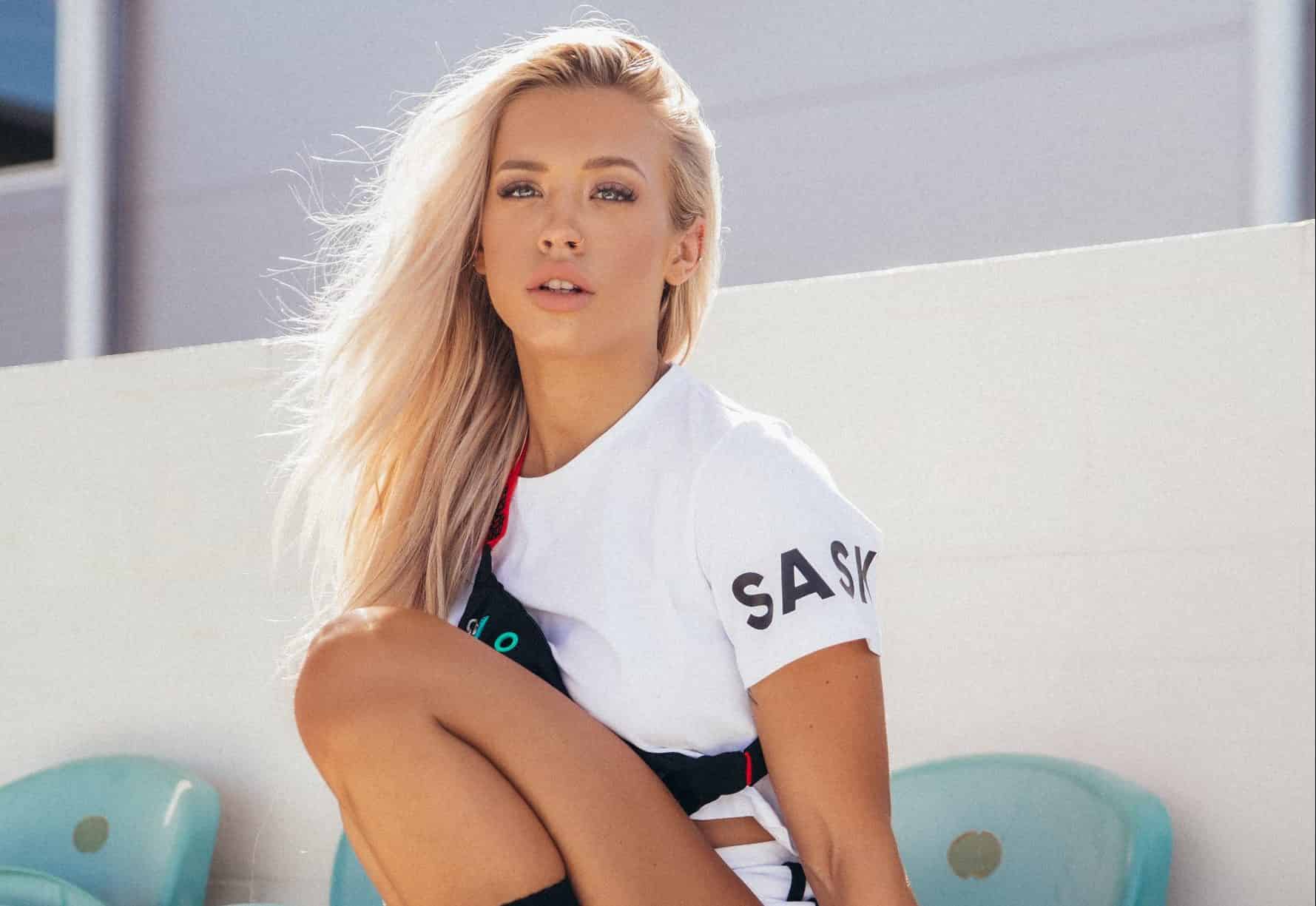 With the ever-rising numbers on social media, she rebranded into fitness by establishing Saski Collection, a luxury athleisure line of merch in 2017. The designer brand offers comfort and style – a perfect fit for anyone working out at the gym. As a fitness expert, she also sells workout gear and supplements.
As the demand for her merchandise grew across 190 countries all over the globe, she established Saski Mini Collection in May 2020. With the help of fellow influencers like Yris Palmer, Sky Wheatley, and Piscopo, all her collections sold out within minutes of launching the brand.
Also supplementing her clothing brand was the invention of her premium app called Tammy Fit. Upon subscription, you'll receive targeted programs, nutritionist-crafted meals, a diary, and workout videos to help keep fit both at home or the gym. The app targets young women, particularly getting women who have just given birth back in shape.
Tammy Hembrow Net Worth
Tammy Hembrow's influence on digital platforms makes up most of her net worth. As a model on Instagram, she features about two sponsored ads weekly that pay her between $31K to $55K. Moreover, she also charges similar, if not higher, rates on her YouTube channel, with over 1.3 million subscribers. The famed model also draws her net worth from other sources, such as her podcast, Hanging with the Hembrows. 
To summarize all her finances, Tammy makes a lot of money from her fashion brand, sale of merchandise, fitness vlogging and blogging, as well as paid advertising on major digital platforms. The Tammy Fit app alone reportedly has well over 100K subscribers, rising over the pandemic period. In total, reputable sources have reported on Tammy Hembrow's net worth at approximately $2 million.
Tammy Hembrow's Former Boyfriend Turned Fiance Reece Hawkins
The fitness guru turns a lot of heads whenever she's in town. One particular case was that of her ex-boyfriend turned fiancé, Reece Hawkins.
The pair met during their late teens at one of their parties and began dating back in 2014. To many fans, they were the 'It Couple' as many looked up to their relationship. Reece Hawkins was more than her boyfriend. He was also her fitness trainer.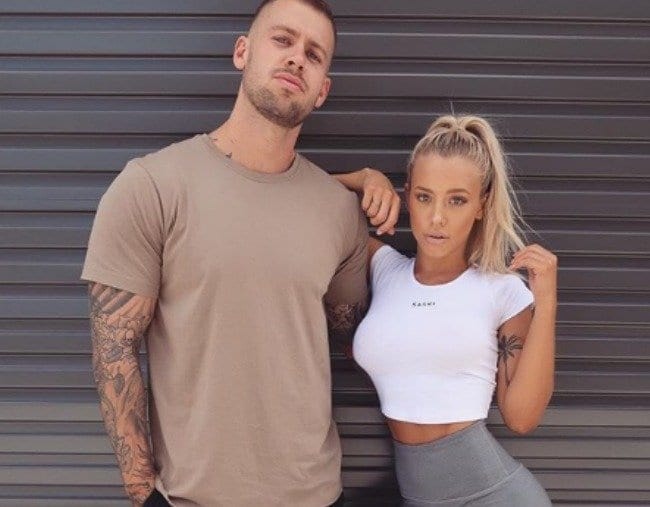 They lived together, worked out together, and vlogged just about anything on YouTube. At some point in time, the couple went even as far as getting engaged! Things, however, suddenly went south in June 2018 when they announced their split and called off the engagements.
In an exclusive with Jute Magazine, the Instagram model revealed that they split after having grown apart for some time.
"One or two months ago, I decided to end things with Reece." She added, "He didn't cheat on me and neither did I, It wasn't like that at all….I don't want people to think we just gave up. Most people know relationships are very complex."
However, some sources have pointed out that she cheated on him with famed rapper Tyga. She met him in one of her many hangout sessions with an Instagram model, Kylie Jenner. Neither party has commented on these allegations, though.
Tammy Hembrow Kids
Tammy Hembrow's fans weren't the only ones affected by the breakup with Reece Hawkins. Their two children Wolf and Saskia were also caught in the crossfire. The famed influencer had Wolf with Reece when she was only 20 years old. She gave birth to her only daughter Saskia the following year.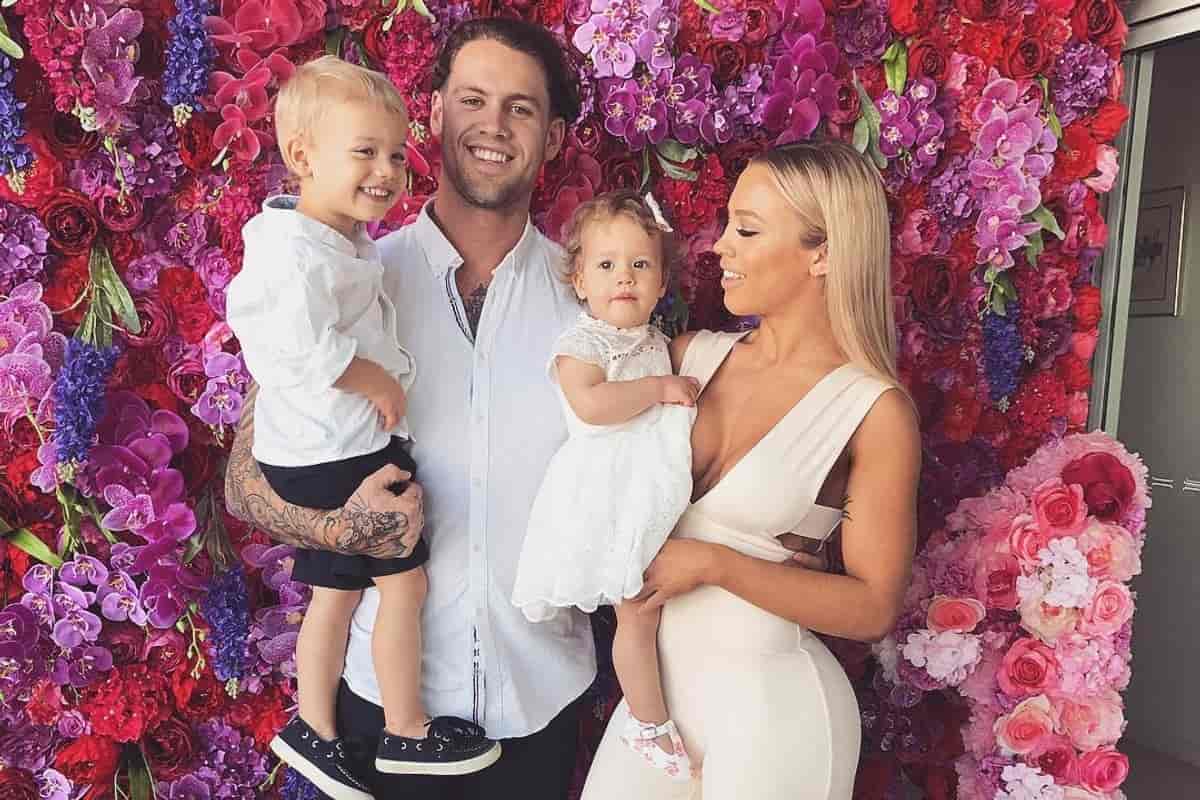 Upon their split, Tammy got custody of the kids and raised them in her luxurious house in Broadbeach Waters, Australia, which she bought for $2.88 million in July 2020. The mother of two also owns a home in the gated community in California. There is, however, a battle brewing between the former couple involving visitation rights.
In a highly debated stunt, she pulled her from school to keep them safe during the pandemic and kept them in isolation away from their father. Reece and his new girlfriend had just come from a vacation in Bali. While some commend her for her tactical approach, others believe she was lashing out to Reece's new girlfriend and baby momma, London Goheen.
It wouldn't be the first time she pulled such a stunt on her. In March 2021, Hembrow uploaded a picture of her son Wolf to commemorate International Women's day just hours after London gave birth to her firstborn son. It got so bad that even Recee took down all pictures of his kids from Instagram.
Is Tammy Hembrow Married?
Reece Hawkins isn't the only one who moved on and got a new partner. Tammy is currently hooking up with 32-year-old model Matt Poole. The couple has been going at it since 2019, and he seems to fit right in with her kids. With her help, Poole signed a new deal with Bella Management Agency. He previously ran a popular restaurant called Maman and Kitchen. You can find it on the Gold Coast, Australia.
Before Matt, the mother of two was linked to famed Canadian rapper Jakhoy Palmer. However, their relationship came with its faults. For starters, the couple broke up many times and got back together right after. Secondly, Tammy didn't share pictures of Jahkoy on her feed for someone who flaunts her everyday life while he was busy posting them together.
Eventually, the pair split, citing irreconcilable differences.
Age and Date of Birth
Tammy Hembrow recently turned 27 years old, following her birth on April 22nd, 1994.
Workout Tips
Unlike most creatives and influencers, Tammy's fan base on the photo-sharing application mainly focuses on her looks. Her booty, in particular, is one of her greatest assets, and through regular exercise, dietary tips, and butt workouts, you too can reap excellent results.
To achieve that miraculous booty, you need to eat food with lots of calories to help you gain muscle. Never skip meals, especially a nutritious dinner with lean protein, green leafy vegetables, and complex carbohydrates.
Secondly, be sure to incorporate weights into your workouts. Mix it up, don't just linger on your booty but instead exercise with your entire body. Lastly, consistency is vital. Work hard, keep pushing yourself and never give up.
Height and Measurements
According to ModelFacts, the fitness guru only weighs about 128 lbs at an average height of five and a half inches tall. She also has a perfect body figure with measurements of 36-23-36 inches. What they failed to capture, however, was her dress size and shoe size.
Parents and Family
Tammy is the middle child born of her parents Robert Mark Hembrow and Nathalie Hembrow from Trinidad and Tobago. Mark is a former Australian actor, musician, producer, and writer. Despite being currently divorced from Nathalie, he has two more daughters, Amy and Emilee, born in 1990 and 1992.
Amy describes herself as a horror movie fanatic and loves to read. She is also the acting General Manager for their clothing line, Saski. Emilee, like Tammy, is also a mother of two, with her first being a daughter named Aaliyah and a son on the way. Tammy also has two other younger half-sisters named Starlette and Ava Thyne. Starlette is a young adult aged 19, whereas Ava is currently 14 years old and rarely appears on Tammy's vlogs.
Plastic Surgery
There are those that question Tammy's resilience in bodily workouts as well as its magical results. She was often under the bowl of rumors speculating whether she went under the knife for plastic surgery. It turns out that she did have undergone breast augmentation to lift them. The Instagram model got candid about how draining her experience with breastfeeding left her breasts saggy. As a result, she felt the need to get them lifted.
Her Looks Before and After Surgery
Upon the admission of having one plastic surgery, more people studied her looks for signs of more. One celebrity doctor named Dr. Harworth closely examined her old pictures and compared them to her current to reveal that she had undergone other procedures.
His findings suggested tampering with her facial features, particularly her jawline, shaped into a v-line chin. Based on his experience, the doctor implied it was through liposuction or bony chin modification. He also touched on cosmetic injectables to enhance her bombshell butt. However, Hembrow went on record to deny these allegations. Her looks are purely from working out, strong genes, and a proper diet in her defense.
Wiki
Tammy grew up in rural Australia, where she was born and raised. Growing up, the mother of two didn't always make the best decisions. She was constantly breaking the law through underage drinking and smoking. Much of her destructive behavior is partly owed to her broken family with her parents divorced. Moreover, her father was also out chasing his dream career as a musician, writer, and producer.
As a result, Tammy never made it through college. She dropped out of her Business Degree to travel to countries like Malaysia and Switzerland. She eventually wound up into fitness and went viral after collapsing on Kylie Jenner's 21st birthday. When teamed up with her sisters, they are famously known as the Aussie Kardashians.