William Leonard Roberts II or more popularly known as Rick Ross in the music scene is a native of Clarksdale, Mississippi. The 45-year-old's professional name was inspired by a notorious drug kingpin of the same name. Know further about Rick Ross and his weight loss journey.
He played football in college and started as a correctional officer before entering the music industry. Rick Ross is a record executive, businessman, and songwriter. His first album Port of Miami shot him to stardom.
Learn about his career and lifelong journey before and after losing weight.
Rick Ross Weight Loss Journey
Rick Ross was overweight when he first entered the music scene. If you look at videos of his past performances, you'll see him on stage with his shirt open and his bulging belly hanging out.
At that point, his weight never really bothered him. However, the rapper was sent to the hospital after a life-threatening seizure.
And everything changed after that. Rick Ross tipped the scales at over 300 pounds at that time. That opened his eyes to the possibility that he could lose his life if continued his unhealthy lifestyle. During that time, his eating habits were very unhealthy.
He ate steak as often as he could and anything that was fried. And he did not exercise at all. The only exercise he got was when he was jumping around on stage. After his seizure, Rick Ross embarked on his weight loss journey.
The rapper completely changed his diet. His diet consists mainly of healthy proteins and vegetables. Although he still indulges in his favorite steaks and fried food from time to time and treats it as a reward for his hard work at the gym.
As for exercise, Rick Ross has a massive gym inside his home. His goal is to work out every day, but his busy schedule does not allow that most of the time. He only manages to hit the gym about 3 to 4 times a week. Rick Ross also makes it a point to sleep early and drink lots of water throughout the day.
Current Weight: Before and After Looks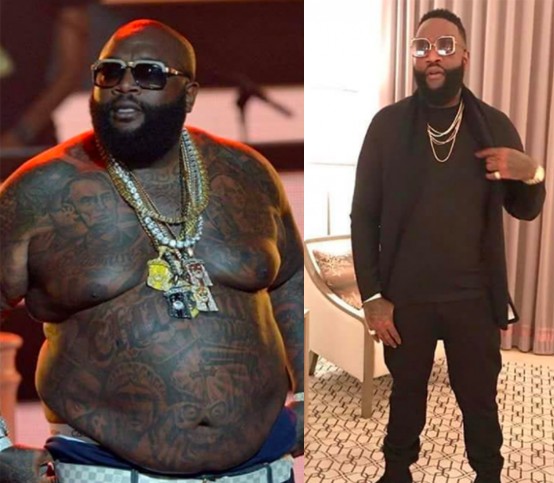 The rapper often performs on stage with his shirt open or sometimes topless. So it is very noticeable in his recent performances that he has lost a lot of weight. Since starting on a healthy lifestyle, Rick Ross has lost more than 100 pounds. Currently, Rick Ross weight is 200 pounds
His weight loss is also evident in his performances because he is now more limber and energetic on stage. Losing weight has not just helped his health but also his onstage performance. Now, that's hitting two birds with one stone.