Gabourey Sidibe or Gabby is known for her breakthrough role in Precious. She was born in Brooklyn, New York, on May 6, 1983. Let learn a few more details about Gabourey Sidibe and her weight loss.
Gabourey Sidibe Weight Loss
The weight problem of Gabourey Sidibe started when she was a child. She had to endure bullying from schoolmates and even her own family because she was overweight. Gabourey was unhappy both in school and at home. This made her feel that she had nowhere to run.
Through her teenage and young adult life, she remained overweight. Gabourey also suffered from depression and bulimia as a young adult. Gabourey sought professional help at that time and underwent therapy. She never really put much thought into her weight at that time.
The turning point came in 2017 when her doctors informed her that she had type 2 diabetes. They advised her that she had to lose weight to prevent more health issues. With constant consultation with her doctors, she was cleared for laparoscopic bariatric surgery to aid her weight loss.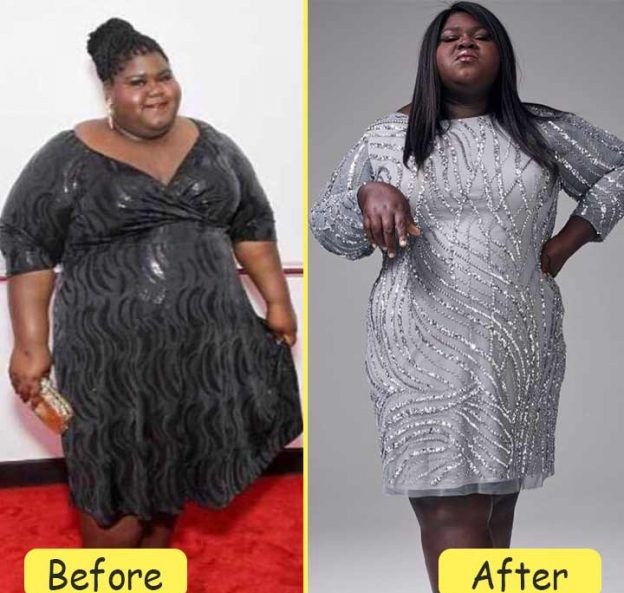 Surgeons surgically placed a band on the upper part of her stomach to limit the space for food. At that time, the actress weighed in at 300 pounds. Her goal was to lose 150 pounds or half of her weight after the surgery.
Weight Loss Diet
After her surgery, Gabourey also decided to start eating healthy. Since her stomach can only accommodate small portions of food, she had to make every bite count. She learned to make healthy food choices. Gabourey avoided unhealthy food like the plague.
After all, she has been binging on unhealthy food for most of her life, which is the primary reason she became overweight. In addition, the actress also avoids drinking soda at all costs. She used to love soda, and it was a part of almost every meal.
Finally, the actress has bid goodbye to her addiction to soda. Instead of soda, she now drinks lemon water. It is just water with a few slices of lemon. It is that simple, but it has lots of health benefits. Drinking lemon water is an excellent way to detoxify the body or remove all the toxins.
The actress also bid goodbye to junk food which she also loved. Before her surgery, she was constantly munching on junk food, and she knew that it was unhealthy. Now she eats saltine crackers and veggie chips when she wants a quick snack or wants to munch on something.
With her smaller stomach, she has to eat small but frequent meals. She makes it a point to eat 6 to 7 times a day. Before each meal, she drinks a glass of water to help make her feel full.
Workout Routine
After her surgery, Gabourey began exercising slowly. Her workout mainly was low-impact cardio, such as using the stair stepper and the treadmill but on a low setting. Her trainer did not want to put excessive pressure on her joints since she was still overweight at that time.
After some time, her routine progressed to lunges, pull-downs, leg presses, and squats. Another low-impact exercise that she tries was aerial yoga.
Swimming is another low-impact exercise that she regularly does. She often swims up to 100 laps. Biking is also one of her favorite workouts when she gets bored working out at the gym.
Weight Loss Tips
Gabourey Sidibe has learned that portion control is very crucial in weight loss. Even with healthy food, it is still important to control your portions. If you do not follow the proper portioning of your food, then you will not lose weight.
She also advises on cutting down carbs and only eat good carbs in moderation. Another great tip from Gabourey is to use a small plate so that you do not feel like you are not eating enough.
Current Weight
As of date, Gabourey Sidibe has successfully achieved her goal of losing half of her weight before surgery. With discipline and determination, she has amazingly shed 150 pounds. The actress is not just looking good but feeling good about herself too.
Wiki
After her parents separated, she moved to Harlem, where she joined school plays. But even if she acted in school plays, she never really loved acting. Her goal at that time was to finish school and get a job. She never really thought of acting as a means to earn a living.
But the opportunity came knocking at her door in 2009 while she was in college. A friend urged her to audition for the film Precious. Luckily, she bagged the lead role of Claireece Jones or Precious.
The story evolved around the teen Precious who was physically abused by her mother and raped by her father. The dire circumstances of Precious's life were the perfect opportunity for Gabourey to showcase her acting abilities.
And it all paid off when she was nominated for Best Actress at the Academy Awards. After that movie, a lot of opportunities came knocking at Gabirey's door. College would have to wait for now.