Micheal or Mike O'Hearn is a renowned fitness trainer, bodybuilder, and model. He holds several titles in his fitness careers, such as 7-time titleholder of Fitness Model of the Year and 4-time Mr. Universe. He is also an actor and is featured in movies such as American Gladiator. The fitness celebrity is also a businessman. Mike has been in the fitness industry for over 30 years.
Get to know more about his wife, Mona Muresan. Also, his net worth and age are revealed here.
Who Is Mike O'Hearn?
Mike O'Hearn is a household name in the fitness industry mainly because he has been around for more than three decades. He was already involved in fitness as a young man.
This is because his father was a bodybuilder and football player. All of his siblings, including the girls, were weightlifters and bodybuilders. Their father was their most significant influence.
The entire family trained hard each day. Martial arts was also a part of their training. But another reason why he wanted to build his muscles were his older brothers. Mike is the youngest of 10 siblings, and he was always the target of bullying by his older siblings.
He wanted to build his muscles so he will not be the scrawniest among in the family. From a skinny little kid, Mike is now a hulking fitness celebrity. Aside from fitness, Mike also loves dogs, so he is an avid supporter of dog shelters and charities.
Mike also uses his success to inspire the young kids to reach for their dreams. He hopes to inspire the youth to be relentless in pursuing their goals.
Net Worth and Income
Mike O'Hearn has an estimated net worth of $3 million. He owns Power Bodybuilding, a fitness company that provides fitness programs through a subscription. The fitness programs are focused on building hypertrophy and strength.
His fitness programs have proven to be very effective and have gained a lot of subscribers. Mike is also a successful model and has appeared on the cover of fitness magazines more than 500 times. His popularity in the fitness world has made him a very in-demand model.
Age and Date of Birth
Mike O'Hearn was born on January 26, 1969, in Kirkland, Washington. He started joining body-building contests when he was 15 years old.
Today, Mike O'Hearn is now 52 years old and still very active in the fitness and modeling industry. He has also managed to maintain a youthful look even if he is already in his fifties. This is because he maintains a healthy lifestyle. He started this while he was still a teenager. A healthy diet and physical activity do keep one young.
Height and Measurements
Mike stands at an astounding 6 feet and 3 inches tall. His weight is at 110 kg, which he has maintained all through these years. As a model, his impressive height was a significant advantage for him. His height was also very advantageous when he first started joining body-building and fitness contests.
Mike O'Hearn is married to a wife,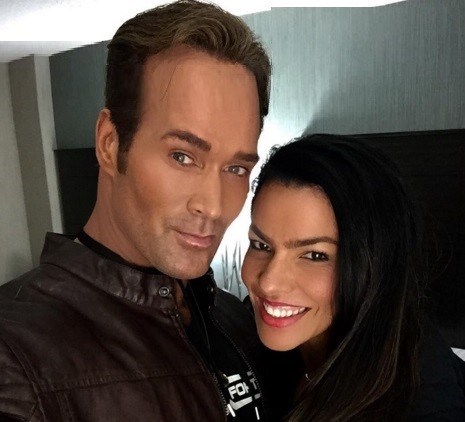 Mike O'Hearn was previously married to Melinda Middajah McCullum, but the marriage did not last long. The couple later divorced. Melinda is a fitness model like Mike. And she also worked as a wrestling manager in the past. Mike and Melinda did not have children together.
A few years later, Mike met Mona Muresan, who is also a famous fitness model and businesswoman. She is also the owner of a restaurant, Nebraska Steakhouse, and Lounge. Eventually, the couple married and now has a son named Titan, born in March 12, 2019. Together, the couple has established several businesses, including a hotel.
Who Is Mona Muresan? Biography
Mona Muresan, the equally famous wife of Mike O'Hearn, is originally born in Romania. She was from a poor Romanian family, so she grew up very skinny and frail.
When she was 18, the entire Muresan family migrated to America to look for greener pastures. When she first got to America, she was awed by posters of very muscular and fit women.
She envied the women on the posters because she was skinny at that time. This inspired her to enroll in a gym, but all she ever did was run on the treadmill.
She was afraid to lift weights, thinking that a thin girl like her could not do it. After seeing no results, Mona decided to give weightlifting a try, and that started her journey as a female bodybuilder.