Lee Latchford-Evans is an English singer, actor, and fitness expert. He is an original member of the English dance-pop group Steps. Lee is expecting his first child with his wife, Kerry Lucy. What is his net worth as of 2021?
Lee Latchford-Evans is a Personal Trainer
He is most famous as a personal trainer when he is not performing with his band, Steps, or acting in films. He is a certified fitness/personal trainer. Multi-talented Lee holds a 2nd Dan Black Belt in kickboxing.
Latchford-Evans was the founder of the now-defunct fitness magazine, FamouslyFit. At its heyday, the magazine was hailed as one of the UK's top Celebrity online health and fitness magazine.
Lee Latchford-Evans from Steps
Lee joined the English dance-pop group, Steps in 1997. He was part of the original lineup with Lisa Scott-Lee, Claire Richards, Ian "H" Watkins, and Faye Tozer.
Lee is in charge of choreographing the group's dance routines. Additionally, he also provides backing vocals. However, he did provide lead vocals and co-wrote the song Turn-Around. Similarly, Lee also sang two verses on the group's debut single 5,6,7,8.
Steps have released seven studio albums, two live albums, two EPs, seven compilation albums, 28 music videos, and 28 singles.
Additionally, they have headlined ten worldwide tours. Furthermore, they opened for Britney Spears on her 1999 "…Baby One More Time Tour."
Steps went into hiatus twice: from 2001 to 2011 and 2012 to 2017. They have been performing regularly since 2017.
Wife Kerry-Lucy Taylor and Children
On November 10, 2012, Lee from Steps married his longtime partner, actress Kerry-Lucy Taylor. Like Lee, Taylor also performed in an English pop band. While touring, Lee and Kerry-Lucy landed the same gig and met in 2007. They began dating subsequently and got engaged in March 2012.
They tied the knot eight months later, on November 10, 2012.
Speaking to OK! Magazine, the couple announced that they are expecting their first child together. The baby boy is supposedly due in August 2021.
Lee admitted to being cautiously optimistic after revealing that their first child miscarried in 2018.
Talking to the magazine, Lee said:
"We're scared as much as we're excited. We've wanted a baby for so long."
Furthermore, he called the moment "a mix of joy but also worry" and that the "safety net was the 20-week scan."
Lee broke the news to his former bandmates via a Zoom group call. He is the last one of his bandmates to become a parent.
Kerry-Lucy Taylor is an actress. She is most known for her portrayal of Holly Clark in 2018's Dead Ringer. Other than that, she also had a role in the 2018 film Webcast.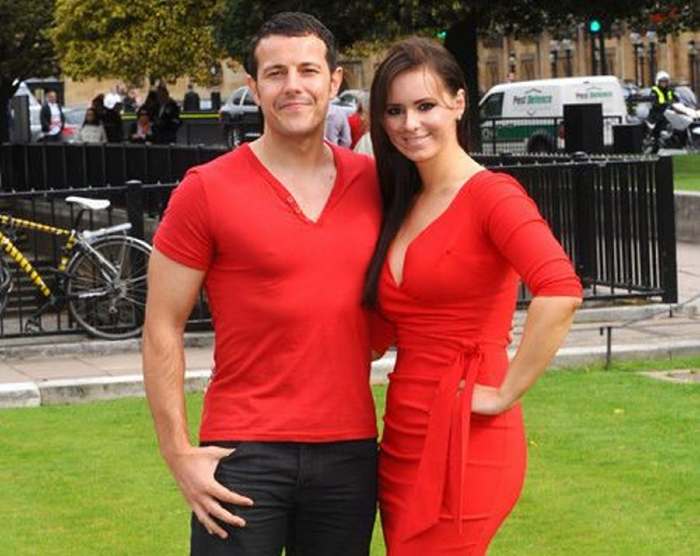 Net Worth and Income Sources
As reported on several sites, Lee Latchford-Evans has an estimated net worth of $12 million. Lee is a pop star, actor, and qualified personal trainer.
He is an original member of the multi-Platinum-selling English pop group Steps. One of the best-selling British dance-pop bands of the late 90s, Steps has sold over 20 million records worldwide.
Their debut studio album, Step One, was a huge success that sold over 2.5 million copies worldwide and was certified 5x Platinum. That's not the only success they had. Furthermore, their second and third studio albums were certified 4x Platinum and 2x Platinum, respectively.
Furthermore, their debut single 5,6,7,8 sold over 600K copies in the UK alone. Other singles like Last Thing on My Mind and Heartbeat / Tragedy have also achieved Platinum status.
Additionally, the group has headlined ten commercially successful tours. Seven out of ten of Steps' tours sold out. They also opened for Britney Spears on her 1999 "…Baby One More Time Tour."
In addition, Lee from Steps is also an actor. He is most known for his roles in movies like Ten Dead Men, Cash and Curry, The Rizen, Dead Ringer, and Paintball Massacre. According to PayScale.com, a screen actor typically makes between £39,305 and £50,000 annually.
Besides that, Lee is a certified personal trainer. As such, he reportedly makes an estimated $60K (£ 42.4K).
| | |
| --- | --- |
| Information | Details |
| Date of Birth | January 28, 1975 |
| Place of Birth | Chester, Cheshire, England |
| Birth Name | Lee Latchford Evans |
| Famous Name | Lee from Steps |
| Age | 46 years |
| Height | 5 feet 9 inches (1.75 meters) |
| Profession | Singer, Dancer, Stage Actor, Personal Trainer |
| Net Worth | $12 Million |
| Wife | Kerry-Lucy Taylor (November 10, 2012 – present) |
| Children | Expecting first child |
| Music Group | Steps |
| Filmography | Ten Dead Men (2008), Cash and Curry (2008), The Rizen (2017), Dead Ringer (2018), Paintball Massacre (2020) |
| Online Presence | Official Site, Instagram, Twitter |