Harley Pasternak is a Canadian-born American personal trainer, nutritionist, author, television host, and motivational speaker. Likewise, his clientele includes some of Hollywood's most famous celebrities.
Furthermore, a New York Times best-selling author, his books include 5-Factor Fitness and The Body Reset Diet.
Unravel Harley Pasternak workout tips and find out if he has a wife through this article.
He is a Fitness Expert and Personal Trainer
Harley Pasternak is an eminent personal trainer and nutritionist. Similarly, a native of Toronto, Pasternak attended York Mills Collegiate Institute.
He subsequently spent the next four years of his life pursuing a degree in kinesiology from the University of Western Ontario. Meanwhile, his hard work paid off when he earned his honors degree.
Consequently, Pasternak enrolled in the Exercise Physiology and Nutritional Sciences program at the prestigious University of Toronto. Not content with simply receiving his degree, Pasternak applied for a position at the Defense and Civil Institute for Environmental Medicine at the Canadian Department of National Defense.
Moreover, he was assigned to the Nutrition and Exercise Scientist post, a term he served from 2005 to 2007. His insights into physiology and nutrition were groundbreaking.
Furthermore, his work found light in widely peer-reviewed scientific journals. Additionally, he received widespread exposure when his study was published by lauded publications like The Canadian Journal of Sports Medicine and Medicine & Science in Sports & Exercise.
Likewise, having accomplished all that he could in academia, Harley opted to further his career. He earned a certification to become a personal trainer from The Canadian Society of Exercise Physiology.
Upon moving to the United States, he earned another certification from the American College of Sports Medicine. Pasternak was a force to be reckoned with, with a master's degree and two certifications from reputed organizations.
In addition, he went on to author half a dozen fitness-related books, most of which have made it into the New York Times best-sellers list. Among them are 5-Factor Fitness, 5-Factor Diet, 5-Factor World Diet, to name a few.
Harley Pasternak is a motivational Speaker
Besides that, Pasternak is a well-traveled speaker. His speaking engagements have taken him to over 30 countries. Moreover, one of the most revered fitness experts in the world, Pasternak, is one of the few voices to have worked for government agencies as well as private organizations.
TV Shows
Additionally, Pasternak is a prominent fixture of television. He was a semi-regular guest on Good Morning America, Entertainment Tonight, and Today. Furthermore, he appears regularly as Khloe Kardashian's personal trainer on her show on E!, Revenge Body.
Since late 2018, Harley has served as the Global Fitness Ambassador for The Four Seasons Hotels and Resorts. Moreover, he single-handedly heralded widespread refurnishing and restructuring of gyms in several Four Seasons locations.
Harley Pasternak is a Celebrity Personal Trainer
Harley Pasternak boasts the most extensive roster of celebrity clientele in all of Hollywood. Likewise, he provides personal services to as many as eighty-seven A-List celebrities.
Similarly, his clientele includes Hollywood actors like Megan Fox, Amy Schumer, Julianne Hough, Robert Pattinson, Jason Sudeikis, Katherine Langford, to name a few.
Additionally, he also provides his services to musicians like Adam Levine, Lady Gaga, Kim Kardashian, Kanye West, John Mayer, Ariana Grande, Charlie Puth, Rihanna, Gwen Stefani, Usher, Common, and Alicia Keys.
Similarly, Harley has helped actors get in shape for various engagements. In this regard, he has worked on the set of over 50 movies and TV shows.
Pasternak was a fitness expert and personal trainer on Wrong Turn, Cold Creek Manor, Gothika, Catwoman, Constantine, and Elizabethtown.
Furthermore, he was Robert Pattinson's personal trainer in all five of the Twilight Saga movies. In addition, he worked behind-the-scenes on action blockbuster movies like X-Men: The Last Stand, Transformers, and Jumanji: The Next Level.
Diet and Workout
In his interview with fitbit.com, Pasternak revealed everything that he eats in a day. Unsurprisingly, his diet consisted of a nutrition-packed diet. He did admit that he had a sweet tooth and was lenient to consuming sugar every now and then.
His breakfast starts with either his patented apple pie smoothie or his take on a healthy omelet. The smoothie is packed with nutrients and is made of 5 almonds, one apple, one banana, 6 ounces of fat-free plain Greek yogurt, half a cup of fat-free milk, and half a teaspoon of ground cinnamon. Mid-morning, he usually has espresso macchiato with cashews or a low-sugar yogurt with berries.
His next meal is dinner, which varies depending on the day. He usually has a seafood meal. Commonly, he makes shrimp stir-fry, grilled wild salmon with sautéed vegetables, sushi, or seafood kebab.
When he is feeling extra health-conscious, Harley makes a mixed vegetable soup. He allows cheat days when he indulges his sweet tooth with chocolate chip cookies or baked goods.
Harley also avoids alcohol and caffeinated drinks at all costs. Instead, he hydrates by drinking water, sparkling water, or an electrolyte beverage.
Thus, his regular workout habit and proper dieting helped him to fluorish his proper body.
Wife and Kids
Harley Pasternak has been married for a decade to real estate agent Jessica Hirsch. They met for the first time backstage at a Lady Gaga concert in Toronto. The couple exchanged wedding vows in September 2011 and have been together ever since.
They have two children together, a son and a daughter.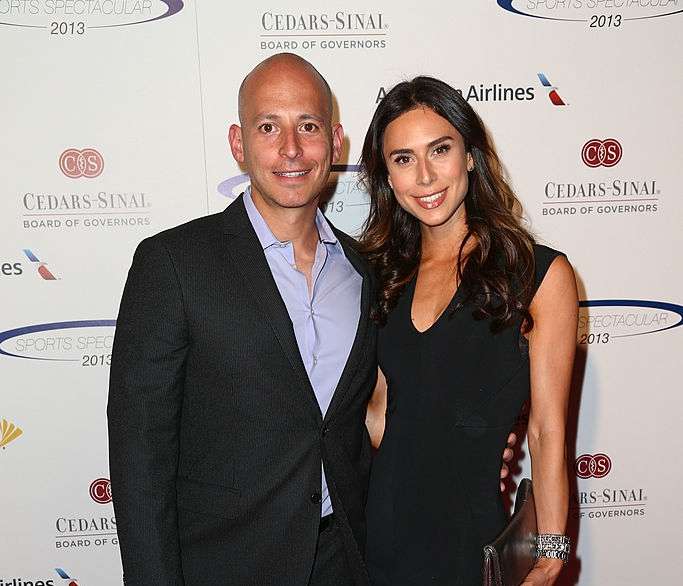 Net Worth and Income Sources
As reported by several online sources, Harley Pasternak has an estimated net worth of $1 million. A Hollywood personal trainer, Pasternak is a trainer to nearly ninety A-List celebrities.
He holds certification in both the US and Canada. Most of his earnings are based on his career as a nutritionist and fitness expert. He has been employed as the resident fitness expert and personal trainer on over 50 movies and TV shows.
In addition, Harley has patented brands of dietary supplements, recipes, equipment, and apparel to his name.
Furthermore, he has authored six books, most of which are New York Times best-sellers, selling thousands of copies.
Additionally, Pasternak has traveled extensively to over 30 countries to deliver talks. He has represented government entities, Fortune 500 companies, and private organizations.
| | |
| --- | --- |
| Information | Details |
| Date of Birth | August 6, 1974 |
| Place of Birth | Toronto, Ontario, Canada |
| Birth Name | Harley Samuel Pasternak |
| Famous Name | Harley Pasternak |
| Age | 47 |
| Height | 5 feet 10 inches (1.77 meters) |
| Profession | Nutritionist, Personal Trainer, Motivational Speaker, Author, Television Host |
| Net Worth | Approx. $1 Million |
| Wife | Jessica Hirsch (2011 – present) |
| Children | 2 |
| Alma Mater | The University of Toronto, University of Western Ontario |
| Filmography | Private Valentine: Blonde & Dangerous, Teenage Mutant Ninja Turtles |
| Online Presence | Instagram, Official Site |