One year after they called quits to their marriage, personal trainer Chris Powell and fitness coach Heidi Powell are still on the best of terms. They are parents to two children of their own and two children from Heidi's previous marriage. Know in detail about their relationship. Furthermore, let's have a closer look at why did Chris and Heidi Powell divorce.
How Did Heidi and Chris Powell Meet?
Back in May 2019, Heidi and Chris talked to Yahoo! Life in detail about how they met and fell in love. They admittedly met at a self-help seminar.
Both of them were at the lowest point in their lives. On one hand, Heidi was a single mother of two with an eating disorder. On the other hand, Chris was a down-on-his-luck aspiring personal trainer up to his knees in debt.
They commiserated with each other over their collective misfortunes and struck up a platonic relationship. However, their friendship soon turned romantic, and they married 19 months later.
Marriage and Kids
Chris and Heidi exchanged wedding vows on June 30, 2010. Far from a lavish affair, they wed at a strip mall in Portland, Oregon. Only Chris, Heidi, her two children, and their parents attended the ceremony.
Somewhere in between, their marriage hit a rough patch. Still very much in love, Chris and Heidi adopted the 30-day sex challenge, where they have sex every day without exceptions for a whole month. While undertaking the challenge, they realized they truly loved each other and found a way to make it work.
Subsequently, Chris and Heidi had two children together, son Cash and daughter Ruby. Additionally, Heidi has another set of boy-girl children with her ex-husband, Derek Solomon, son Matix, and daughter Marley.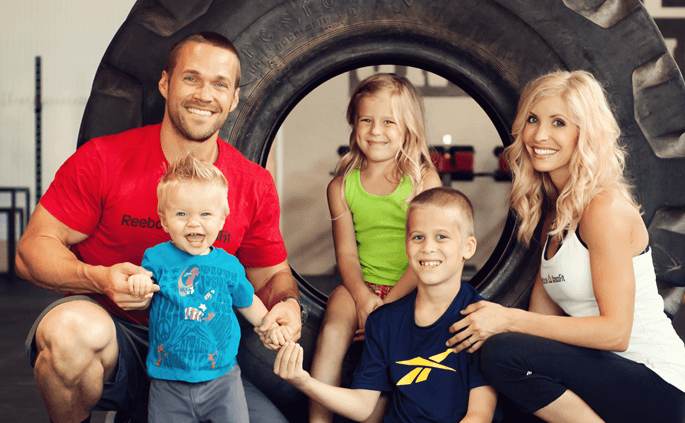 Chris and Heidi Powell Divorce
On May 23, 2020, Chris and Heidi put out a joint statement on Instagram saying they were separating after almost ten years together.
In the lengthy statement, Chris said:
"While this may come as quite a shock to many of you, please know that this decision was made over the course of many months on a quest to create the best dynamic for our modern family, and we are now in a great place."
Furthermore, Chris explained that they would always be a family and were bound by their four children, making sure to include his stepchildren and their father.
He went on to say that while he felt immense sadness, he also felt
"an overwhelming amount of hope, peace, and love"
and called it
"the next chapter with a slightly different-looking relationship."
Their Current Relationship
Despite going their separate ways, Chris and Heidi remain friends. Their top priority is their four children, whom they jointly co-parent.
Aside from their two children, Chris is a doting stepfather to Heidi's two children from her previous marriage to Derek.
The seven of them are exemplars of how a true blended family functions even when faced with hardships.