Carlos Leon is a Cuban-born American personal trainer-turned-actor. He was the personal trainer/boyfriend of pop icon Madonna. They had a daughter, Lourdes Leon. Currently, he is now married to Danish fashion designer Betina Holte. They have a son together. Read his wiki-bio facts in this review.
Carlos Leon as a Fitness Expert
Carlos Leon made his name in the world of fitness. He got into health and wellness in his teens. During that time, his family was plagued with health-related issues. Determined not to end up the same, Carlos changed his lifestyle.
He went vegan at 25 and hasn't touched meat in nearly 30 years. At 54 and in the best shape of his life, Carlos still works out every day.  Furthermore, he doesn't take medication, believing that food is medicine. Similarly, he imparts his philosophy to his children. Leon often jokes about having a "no-sugar" household.
Carlos is hailed as a "body whisperer." His philosophy to fitness is balance in mind, body, and spirit. He pioneered the "Belleon Method" and "Primal Method." The Belleon Method focuses more on a high-intensity workout. Conversely, the Primal Method is a slower-paced workout.
Both methods are lauded for people's ability to perform them anywhere. His workouts combine strength training, cardio, and flexibility. Additionally, the exercise doesn't require any special equipment.
Carlos founded the Belleon Body gym with fellow fitness buff Jeff Bell. The Belleon gym is based in Chelsea, New York. Several celebrities frequent the gym. Like Carlos, the gym provides a place of Zen and connection.
He was Madonna's Personal Trainer
Among his most high-profile clients was the legendary pop star, Madonna. Their tumultuous relationship was the talk of the town in the nineties. Their relationship, however, ended as suddenly as it began.
Carlos first met Madonna in New York City in 1994. Initially, Carlos was only Madonna's trainer.
Despite the sudden nature of their breakup, Carlos still speaks highly of Madonna and their time together. Speaking in an interview, Carlos said:
"I'm forever grateful to [Madonna]… I have no regrets. I wouldn't change anything."
They split up in 1997, mere months after the birth of their daughter.
Carlos is the Father of Lourdes Leon
In a short time, Carlos and Madonna had one child together, whose name was Lourdes Leon. Lourdes was born on October 14, 1996, as Lourdes Maria Ciccone Leon.
The 25-year-old daughter is an aspiring actress and director. She played Muse in the 2017 short film A-Z of Music. Furthermore, she will appear as Nemesis in the upcoming short film, Brief Story.
Lourdes is the apple of her father's eye. Carlos jested in an interview with People magazine about how he couldn't be strict with his daughter. He said:
"I'm a lenient dad. I'm very empathetic, and I'm good at listening to my daughter."
Furthermore, Carlos went on to say:
 "I'm probably a bad dad when it comes to disciplining her."

Fitness expert, Caxrlos Leon and his daughter, Lourdes Leon
He is Now Married to His Wife Betina Holte
On July 13, 2013, Carlos Leon married his partner, the Danish fashion designer Betina Holte. The couple welcomed their son, Meeka Leon, on February 25, 2015.
Holte has worked as a fashion designer for Zac Posen and her eponymous brand, Betina Holte. Co. Currently, she operates Rabens Saloner in Copenhagen, Denmark.
Before meeting Carlos, Betina Holte was in a relationship with Hollywood's biggest star Jim Carrey in 2003. Her involvement with Jim skyrocket her stardom but didn't last long since they broke up the same year.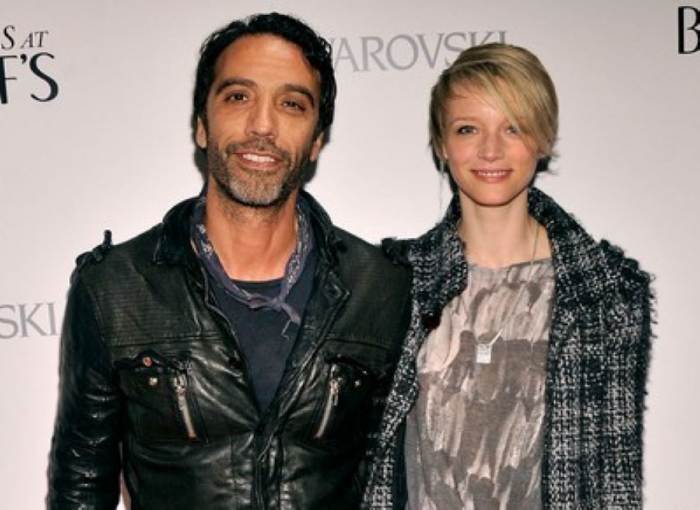 Wiki-Bio
Carlos Leon was born on July 10, 1966, as Carlos Manuel León. Originally from La Habana, Cuba, Carlos currently resides in New York.
While known for being a fitness guru, Carlos Leon is also an actor. He has acted on-screen and on-stage.
His on-screen career began in the mid-'90s. From 1996 to 1997, Leon appeared as Freddie in the CBS series Nash Bridges. Subsequently, Leon made his feature film debut in 1998's The Replacement Killers.
Leon made a cameo in 1998's cult classic The Big Lebowski. He has since appeared in several movies. Most notably, he appeared in The Last Marshal, Empire, Big Apple, and Clinton Road.
On television, he is most known as Carlos Martinez on HBO's Oz, Diego Martinez on ABC's Ugly Betty, and Eduardo Soto on CBS's Blue Bloods.
According to Celebrity Net Worth, Carlos Leon has a net worth of $5 million.
Personal Info
| | |
| --- | --- |
| Information | Details |
| Date of Birth | July 10, 1966 |
| Place of Birth | La Habana, Cuba |
| Birth Name | Carlos Manuel León |
| Age | 55 years |
| Height | 6 feet 2 inches (1.87 meters) |
| Profession | Personal Trainer, Actor |
| Net Worth | $5 Million |
| Wife | Betina Holte (13 July 2013 – present) |
| Children | 2 (Lourdes Leon (born on October 14, 1996), Meeka Leon (born on February 25, 2015)) |