Brooke Ence is an American-based actress well known for Wonder Woman and Zack Snyder's Justice League . Brooke, a CrossFit athlete, started her fitness journey as a professional dancer. After graduating high school at the University of Utah. Brooke got her degree in Modern Dance and trained as a professional dancer.
Unravel several key facts like age, net worth, and fitness career in this Wikipedia-type biography. Also, she learned about her love life and her divorce from her husband.
Career As a Fitness Model
The CrossFit athlete got an invitation to compete in Vegas, and she needed to learn gymnastics and climb ropes. One of her friends encouraged Brooke to try the CrossFit Gym to learn these skill sets.
Trying the CrossFit Gym started her career in the fitness world. Brooke made her name to the fitness industry after qualifying for the Reebok CrossFit Games in 2015 during her rookie year.
Brooke Ence is now a Fitness coach at CrossFit West Santa Cruz in California from being a professional dancer. The CrossFit athlete is also gaining attention from her social media followers.
Brooke is active in her social media with 46,000 followers on Twitter, 358,000 subscribers on YouTube, and 1.5 million followers on Instagram as of 2021. Her fitness journey and routines became an inspiration for many people that want to have a healthy lifestyle.
Brooke Ence Was Previously Married to Marston Sawyers
Brooke met Marston Sawyers, a film director, at Del Taco in 2007. Brooke was only 18 when they started dating after they met and stayed together while being in a long-distance relationship for two years.
The two pursued their career together in the CrossFit industry in 2010. Marston and Brooke decided to move to Santa Cruz in 2012 and tied the not on August 9, 2014, in San Diego, California.
The CrossFit Athlete and the film director were an ideal couple in the fitness world. The two did not have any kids during their marriage but working together made their career more successful.
Divorce
Marston and Brooke Ence seem to be a perfect match, so the news about their divorce in 2018 shocked the industry.
Fans were concerned about their divorce, but Brooke did not disclose any information about the separation.
Brooke told her fans and followers that the process of divorce is very emotional, and she cannot answer their questions. The fitness model asked everyone to give her time and respect her personal life in these difficult times.
Former Husband, Marston Sawyers Biography
Brooke Ence is an international fitness icon, but Marston Sawyers also shares fame in the fitness industry. Marston is known for his Fittest on Earth trilogy with Heber Cannon. The film director finished his studies at Dixie State College in 2009 as a chief and essayist in Correspondence and Media Studies.
But before gaining his name in the film industry, Marston was also a CrossFit competitor like Brooke. While attaining his Communication and Media Studies degree, Marston played in the football team at his university. Although Marston did not make his way to the CrossFit Games, he joined open competitions. But then he focused on covering the games.
During a sectional event in 2010, Marston started working for Crossfit media and met Heber Cannon. He ended up working as his assistant. Joining Crossfit Media is considered Marston Sawyers's big break. Being part of the team opens a lot of opportunities for aspiring filmmakers and storytellers.
Brooke Ence Net Worth and Business Endeavors
The fitness model Brooke Ence is not only famous for her CrossFit achievements. Brooke is an accomplished CrossFit competitor, fitness coach, entrepreneur, actress, and Instagram Star.
The CrossFit athlete's primary source of income comes from her professional career in the fitness industry.
Participating in elite competitions and being a fitness coach allows her to have an annual income of $50000-$70000. As of 2020, the wonder woman actress has a net worth of approximately 3 million USD.
The fitness model regularly shares her training and workout routine, nutrition, and fitness advice on her YouTube channel and Instagram. Her million followers and subscribers allow Brooke to get paid product advertisements.
When Brooke is not training, the athlete spends her time on her clothing line business, the EnceWear. The EnceWear offers athleisure wear that provides comfortably sporty looks to anyone.
Together with Jacob Hutton, Brooke launched the "Naked Training App," the provides:
Workout routines.
Personalized macro assistance full mobility routines.
Other features that help the user to have a healthy lifestyle.
Age and Date of Birth
Brooke Ence is turning 32 years old this coming August 10, 2021. Her birth year is 1989.
Height and Measurements
Being an athlete and a fitness coach, Brooke maintains her great physique. The athlete stands 5 feet 7 inches tall with an approximate body measurement of 35-26-37.
Workout Tips
As a fitness coach and a CrossFit athlete, Brooke Ence has many workout tips for people who want to stay fit. Joining CrossFit competitions changed her perception of beauty and body image.
Young Brooke was ashamed of her muscular arms when she was in grade school until college. But being part of the CrossFit industry made her realize that more definition in muscles is better. Brooke also advocates women not to be afraid to be strong.
Brooke Ence trains four to five hours per day, depending on the time of the year.
Her workout routine is not for the faint heart. One of her Do-all Workout routines includes extensive training of the muscles for the whole week. Each day, the exercise focuses on a different area of the body.
Day 1: focuses on enhancing glutes, quads, and hamstring with ten completed 20-yard sled push per minute as the conditioning for each set.
Day 2: focuses on the full upper body with low-intensity cardio for 20 minutes as a conditioning per set.
Day 3: focuses on high repetition Glute and Plyometrics workout with four rounds 20 goblet squats and 400m run per set.
Day 4: focuses on core workout with High-intensity Interval Training (HIIT)sprint per set.
Day 5: focuses on glutes and hamstring with four rounds of 20 Russian kettlebell swings and 2 minutes row for interval weight training.
After five days of extensive workouts, you can rest your muscles during the sixth and seventh days. As exhausting as it sounds, this workout routine will get you the body goal you dreamed of in no time.
Diet Plan
But being fit does not stop from doing workout routines and intense training. As an athlete and fitness coach, Brooke has a different diet plan compared to others. A gluten-free diet works well with other athletes. But Brooke chose to incorporate a low carb, high protein, and moderate fat diet in her diet plan.
Working Against Gravity (WAG) helps Brooke in her macro needs. Depending on her schedule and how she feels, WAG adjusts her fats, protein, and carbs intake. She eats 55g fat, 205 carbs, and 160g of protein on a regular day. Here is a sample of her daily meal plan.
Breakfast
Brooke consumes carbs from oatmeal, fiber from veggies, and tons of protein from bacon and eggs for breakfast.
Lunch
For Lunch, Brooke consumes healthy carbs like vegetables with a side of brown rice and gets her protein from Trifecta steak or chicken.
Dinner
For Dinner, Brooke gets her carbs from sweet potatoes, protein from grilled chicken, and lots of nutrients from vegetables like asparagus or squash.
Snacks
Brooke gets additional carbs and protein from her snacks scheduled strategically.
Having your meals prepared ahead of time is another tip from the CrossFit athlete regarding diet plans. Meal preparation gave you more time for workouts or time with your family.
Aside from getting healthy foods, tracking your carbs, protein, and fat intake are also essential. Being consistent with your workout routine and diet plan is one of Brooke Ence's secrets for maintaining her physique.
Brooke and Plastic Surgery
With her fame, the fitness model also receives multiple backslashes from people regarding her physical appearance. Body shaming is not new for Brooke.
The fitness model grew up having an athletic body and received numerous negative comments from people around her. With the attention she is getting from the crowd, her physical appearance is always the main topic.
Having a muscular body is not common for women, and other people accuse her of using steroids. Brooke admitted that she had Botox to hide the signs of aging but slams people saying she had plastic surgery before.
There are also photos circulating the internet showing the before-and-after appearance of Brooke when she is starting her CrossFit journey that fueled the rumor of plastic surgery.
Brooke Ence in Wonder Woman
The CrossFit athlete is not just only making names in the fitness industry. Brooke launched her career in the film industry when she became part of Wonder Woman as Penthiselea, an Amazonian. Her built and physique is a perfect fit for the role.
Her audition for the role is a surprise. Brooke was on her way to a CrossFit training when she received an invitation to audition for a part.
The CrossFit athlete already looks like a superhero straight from the comics, so she had a high chance of getting the role. Her musical theater background also helped in the audition, even though she was nervous as hell.
They shoot the film outside the country, and Brooke also needs to train for the upcoming CrossFit Open. With limited resources on set, the athlete became creative to be able to train.
She even hanged rings on a tree for her training. There were also specific skill sets and training that she needed to learn for the movie. Being part of the movie is one of the most remarkable experiences for Brooke, even though she needed to add extra work and training.
Brooke Ence never thought of entering Hollywood because of her muscular built. But she is breaking the stigma of body images walking on the red carpet.
Apart from Wonder Woman, Brooke also appeared in the Justice League and Black Lightning series.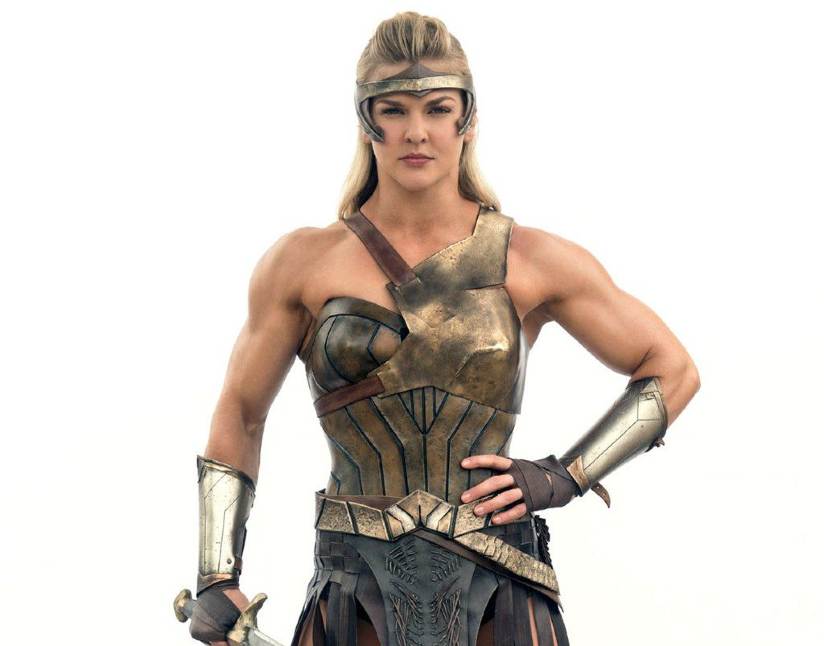 Brooke Ence Wikipedia
Fitness model Brooke Holladay Ence is her birth name, and she was born in California, USA. Brooke has three older siblings that are out from the limelight, as well as his parents.
During her childhood, Brooke is already active in sports activities like swimming, football, and dancing. Her early life and family details are not available even if the fitness model is active in her social media accounts.
Her Wikipedia page doesn't exist to date.