Bradley Martyn is an American fitness expert, social media influencer, entrepreneur, and actor. He operates a gym out of California and has a successful fitness brand and an all-in-one fitness app. Boasting over 10 million followers across social media, Bradley is one of the most successful and influential male fitness models in the world.
Who Is Bradley Martyn?
Bradley Martyn is a renowned figure in the world of fitness and bodybuilding. After suffering personal tragedies throughout most of his young life, Bradley started working out in his mid-teens.
The habit stayed with him through adulthood, and he has since carved out a name for himself. In 2006, at the age of 17, Martyn began a fitness training service. He subsequently started uploading videos on YouTube and became an online sensation.
From 2011 to 2013, Martyn competed in several bodybuilding competitions for the National Physique Committee (NPC). He placed first in the 2011 NPC Southern California Championship. Subsequently, he competed in the NPC USA Championship later that year and finished second overall.
The following year, Martyn tried his luck at the NPC USA Championships once more but finished tenth overall. On his third try at the 2013 NPC USA Championship, Martyn came in eighth.
Besides that, Martyn competed in the 2013 NPC Phil Heath Classic and came in first overall.
Social Media Success
Other than his grit and determination, the singular contributing factor to Bradley's success is perhaps the social media boom of the 2010s. Despite starting his workout program in 2006, Martyn didn't become a household name until 2014. Currently, Bradley Martyn is active on almost all major social media platforms and has over 10 million followers combined.
In August 2014, Martyn began his YouTube channel, uploading his workout videos. Since then, he has amassed 2.84 million subscribers on YouTube. Furthermore, his videos have combined been viewed over 438.9 million times.
Currently, Martyn operates two additional YouTube channels. His vlogging channel, Life of Bradley Martyn, has over 1 million subscribers. Additionally, Martyn also has a dedicated channel for his podcast, Bradley Martyn's Culture Cast.
Aside from that, Martyn is huge on Instagram. He currently has 3.8 million followers on the photo-sharing platform. Additionally, he has just over 3 million followers on Facebook.
Age & Date of Birth
Bradley Martyn was born Bradley Alan Martyn on May 22, 1989. At the time of this writing, he is 32 years old.
Height, Weight, Measurements
Bradley Martyn is billed at the height of 6 feet 1¾ inch (1.87 meters) on IMDb. However, in an Instagram post, Martyn revealed his true height as 6 feet 3 inches (1.9 meters). In the 2017 post, Martyn also said that he weighed 260 lbs. at the time.
Bradley Martyn Net Worth
Based on reports from various online sources, Bradley Martyn has an estimated net worth of around $2.5 million, thereby making him one of the most commercially successful fitness trainers in the world.
A titan in the world of fitness and bodybuilding, Bradley has several revenue sources. His subscription-based all-in-one fitness app, The Daily Gainz, costs $9.95 per month. In addition, his signature line, RawGear, has products that range anywhere from as little as $10 to as much as $150.
Besides his fitness brand, Martyn has several successful social media accounts. According to InfluencerMarketingHub.com, Martyn makes around $7,576 – $12,626 per post from his Instagram. Similarly, he makes an estimated $2.1K – $34.2K monthly ($25.6K – $410.2K yearly) from his YouTube channel.
House
In December 2019, Martyn gave his YouTube subscribers a tour of his new home. He explained that he bought a new home for added space to accommodate his growing empire.
The house comes with an office space, where he creates content and plays video games. The kitchen features a marble top center island and marble countertops. Additionally, the dining room is adjacent to the living space, which has its own fireplace and a flatscreen TV. Bradley's bedroom has its own fireplace and a curved TV. Adjoining are walk-in closets and an attached bath with a bathtub and shower.
On the outside, the home has a pool with a jacuzzi, an outdoor fire pit, and a barbeque area.
When he gave the house tour, the home was still under construction, and Martyn mentioned his intentions to have a den with arcade games and a pool table.
Car Collection
Bradley Martyn is an avid car collector. His ever-growing collection features muscle cars, pickups, and supercars. Some of his most prized collection includes a Chevrolet Camaro ZL1 1LE worth over $64K. Furthermore, in 2018, Martyn bought a 2018 Ford F-150 Raptor that costs over $50K.
Only time will tell what other cars Martyn will add to his collection.
Girlfriend and Dating History
Bradley Martyn is not romantically involved with anyone at the present moment. One report suggests that he had at least one public relationship in the past.
Martyn joked in a Twitter post in 2017 about how he needed to get a girlfriend. Despite being one of the most sought-after bachelors in the world, Martyn is currently single.
Instead, most of his time is spent on keeping himself in excellent physical shape and inspiring and coaching his millions of followers to do the same.
Is Bradley Martyn Natural?
Bradley Martyn's physique is the subject of much discussion on online bodybuilding forums. Many fitness experts question whether his ripped physique results from performance-enhancing drugs like steroids or the result of hard work and dedication.
On MuscleAndBrawn.com, Ernst Peibst speculates that Bradley is indeed doing or has done steroids. He chronicled Martyn's journey from a skinny teenager to a ripped adult and conjectured that his growth was unnatural. Ernst also pointed to his "extreme muscle thickness" and "flushed/red skin" and came to the conclusion that he was probably on anabolic steroids. Additionally, Ernst also commented on how Martyn has never denied steroid allegations, which confirmed his theory as far as he is concerned.
Furthermore, Isaac Haynes, writing for FitnessDonkey.com, echoed similar sentiments. He further went on to name Deca and Dianabol as possible anabolic steroids that Martyn might be using.
Nevertheless, despite multiple claims pointing in the affirmative, whether or not Bradley Martyn uses steroids is still unsure.
Gym
In 2017, Bradley Martyn founded a gym in Woodland Hills, California, called the Zoo Culture gym. The gym membership costs $120 a month, or $1400 a year.
On Yelp.com, the gym is rated 4 out of 5 stars based on 89 reviews. One reviewer called it the "Best gym ever" and spoke highly of the gym equipment.
His Mother Is His Source of Inspiration
A native of San Mateo, California, Bradley Martyn's childhood was marked with despair. His father committed suicide when Martyn was only six. His mother raised him and his brother all by herself.
My father taking his life. At 6 years old. But it took me damn near 23 years to figure this out https://t.co/za8yuBRkSJ

— Bradley Martyn (@BradleyMartyn) May 31, 2018
He considers his mother his biggest inspiration. On Mother's Day 2018, Martyn posted a picture of himself with his mother. In the accompanying text, Martyn highlighted his family's struggles after his father's death and how his mother had to pick up the slack for the entire family.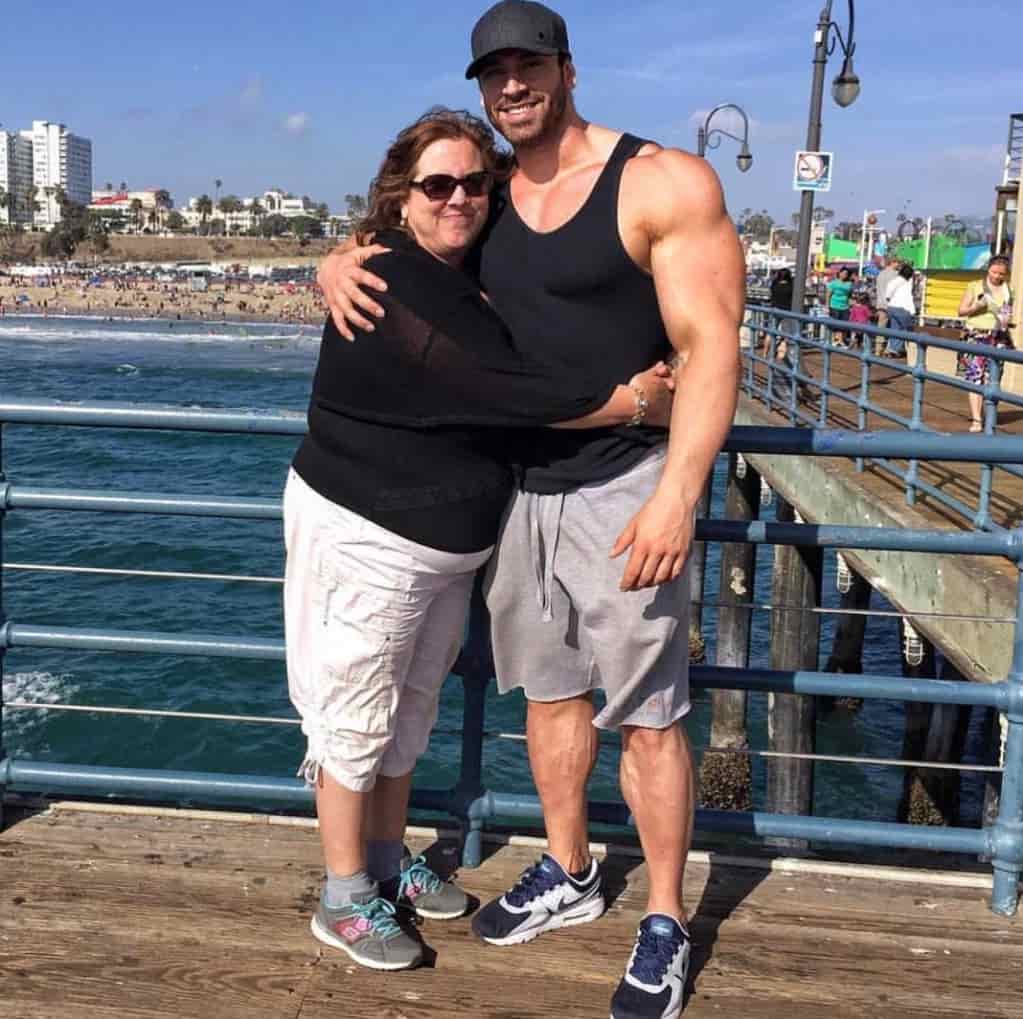 Among other things, Martyn said:
"To say the least… without you mom none of what I have today would be possible… not only because u birthed me…but because you raised me. Even when I was a little sh*t head and did sh*t head things, u always cared for me and did whatever you could possibly do for me to help me grow."
Wiki
Besides running a successful practice and managing several successful social media accounts, Bradley is also an actor with several on-screen credits to his name. He served as an extra in the 2016 horror-comedy Boo! A Madea Halloween. Consequently, he landed the part of Byron in the 2017 sequel, Boo 2! A Madea Halloween.
Additionally, he had cameo appearances in the web series Caught: The Series.
His Workout Plan
Rather than following a strict workout plan, Bradley listens to the needs of his body and works out accordingly. He does not have an all-encompassing routine that he follows every day; some weeks, he works out every day and some weeks is for rest and recovery.
Despite not having a set routine, Bradley still favors some workouts over others. A typical week's worth of exercise for Bradley looks something like this:
Monday – Chest Workout (Barbell bench press, incline dumbbell press, machine chest press, weighted dips, weighted push-ups)
Tuesday – Back Workout (Wide grip lat pull-down, dumbbell row, bent-over barbell row, strict pull-ups)
Wednesday – Shoulders Workout (Dumbbell press sitting, straight bar front raise, dumbbell lateral raise, cable face pulls, barbell shrugs)
Thursday – Legs/Calves Workout (Barbell Squats, leg extensions, dumbbell lunges, front rack lunges)
Friday- Arm
Saturday/Sunday – Rest
His Diet Plan
Like his workout routine, Bradley follows a lax meal and diet plan. When he was competing in bodybuilding competitions, Bradley was conscientious about his diet. At the peak of his pro days, Bradley practiced intermittent fasting. A practice popular among bodybuilders, Martyn would not eat anything for 16 hours straight and consume large meals during an eight-hour period.
Now that he has stepped back from the spotlight and into a more coaching role, he is free to be lenient with what he eats. Nonetheless, Bradley never consumes processed food, sugar, alcohol, or caffeine.
A typical day's meal for Bradley consists of three courses: breakfast, lunch, and dinner. For breakfast, Martyn mostly has salmon, eggs, and whole-wheat toast. Next, he has a healthy burger and steak for lunch. Finally, his dinner typically includes fish, Quinoa, and green salad.
Furthermore, during his YouTube virtual house tour, Martyn offered fans a glimpse into his refrigerator and his diet. Inside the fridge, Martyn had stocked several packets of Trifecta Nutrition. The organic food delivery service offers a wide variety of nutritious food on a weekly rotation cycle.
The food includes vegan and keto recipes as well as other healthy organic food, specially crafted for people trying to lose weight. Martyn has a sponsorship deal with Trifecta Nutrition.
Supplements
Like most bodybuilders, Martyn consumes a slew of nutrition supplements. He favors whey protein, amino acids, multivitamins, etc.
Besides being an avid consumer of diet supplements, Martyn owns a supplement company called Origin Supplements. Several fitness buffs have favorably reviewed his all-in-one pre-workout supplement and (Branch Chain Amino Acids) BCAA's + Hydration supplements.
Merch & Clothing
Bradley Martyn is the creator and owner of RawGear, a fitness, and casual clothing and accessories brand. Martyn launched the collection in 2015 and currently has a wide array of men's and women's clothing and accessories. The price ranges from $10 to $150.
In addition to tops, shorts, T-shirts, etc., his collection also includes hoodies, jackets, hats, beanies, flip-flops, exercise equipment, and accessories, etc.
Bradley Talks About His Anxiety
Looking at Bradley, no one would imagine that he is anything but confident and outgoing. A social media icon with millions of followers and the face of a fashion brand, Bradley oozes confidence. Nonetheless, despite his physical statures, Bradley suffers from an anxiety disorder.
He revealed via his Instagram in 2017 about struggling with the condition. In the post, he mentioned how he had been ashamed of his affliction for fear of being judged, especially working in the hyper-masculine fitness industry.
He went on to say,
"ANXIETY is no joke …. to the outside world everything might appear fine… normal, like nothing's wrong… but sometimes inside we can be going through a storm of emotions, fears, pains… everyone deals with their problems internally different from the next person."
He ended the post by saying,
"… no matter how big or how small your battles are… ONE thing always remains the same… YOU, if YOU are willing to continue to learn and grow to fully understand yourself you will continue to progress and GET BETTER."
He Rescued Two Dogs Bam and Haze
If not for his fitness videos or social media, Bradley Martyn is most known for fostering two red-nosed Pitbulls, Bam and Haze.
The playful dogs feature in several of Bradley's workout videos and have become internet celebrities themselves. The Pitbulls are so famous that Bam, one of the pit bulls, has his own Instagram account. The account currently has over 42.2k followers.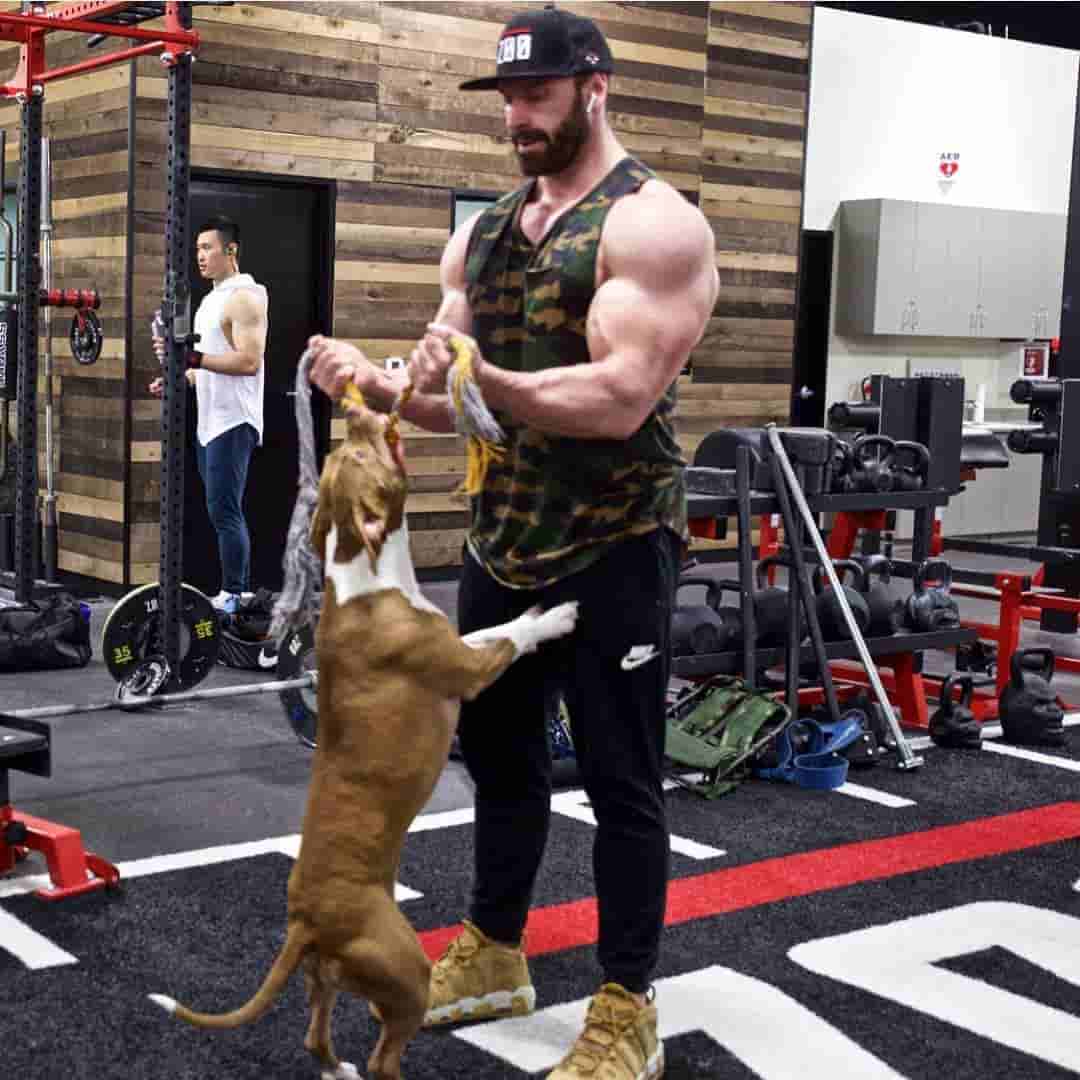 In May earlier this year, Bradley adopted another dog. During his house tour, Bradley showed how cared for his dogs really were. Each had their separate dog house as luxurious as his mansion.
He Was Charged for Opening His Gym During the Lockdown
In recent times, Bradley Martyn landed in some hot wars after refusing to shut down his gym even while the COVID-mandated lockdowns were in effect.
The state of California implemented a mandatory lockdown after a spike in COVID cases. Only essential businesses could operate. Despite the restrictions, Martyn continued running his gym and was consequently served court documents on counts of a misdemeanor in October 2020.
"People of the state of California VS Zoo Culture welcome to 2020, where gyms being open is criminal in California. Where mental and physical health is deemed non-essential",
Martyn wrote on Twitter.
The case is awaiting a verdict.