Ana Cheri is known for her beautiful face and figure. Her face is plastered all over the internet, television, magazines, billboards, and the big screen. To sum it up, her beautiful face can be seen just about everywhere you turn. She first shot to fame after being featured in the 2015 edition of Playboy Magazine. Is she dating a boyfriend?
Ana Cheri is a model, but she has also appeared in some TV shows through the years. She is also an influential fitness trainer. Additionally, she is an influencer with a horde of followers on Instagram.
Dive in to get more information regarding her net worth and age in this Wikipedia-type biography.
Ana Cheri Is A Fitness Model/Trainer
Ana Cheri has always been very serious about fitness. This is quite evident in her very fit and toned body. She takes her workouts very seriously and considers her figure her achievement for all the hard work she has put into it. Ana Cheri is very passionate about keeping her body in excellent shape.
After spending years working out, she decided to turn her passion for fitness into something lucrative. The fitness buff opened her fitness gym named Be More Athletics.
In addition, she constantly posts videos of herself doing various workouts on her Instagram. She also holds transformation challenges regularly to inspire her followers further to achieve their fitness goals.
Getting fit is not just about looking good but feeling good about yourself. Fitness is not her only passion. The fitness celebrity is also passionate about fashion. Aside from her fitness gym, Ana Cheri also owns an activewear company named Want My Look.
And she owns Cheri Swim, a swimwear company. Cheri Swim is recognized for its unique swimwear that has adjustable bottoms.
Net Worth and Income
At present, the net worth of Ana Cheri is approximated at $5 million. This is not surprising with all her endorsements and businesses. She is also very visible on television and in numerous magazines.
Her endorsements include Moskova Underwear, K & N Filters, Monster Energy, and many others. The beautiful Ana has worked hard to get to where she is right now.
Ana Is Married to Her Husband, Ben Moreland
Ana Cheri is an inspiration for many women. She inspires women of all ages that getting fit is achievable. As for the men, Ana is also a source of inspiration with her beautiful face and body.
But sadly for the men out there, the beautiful and voluptuous Ana is already taken. She is married to Ben Moreland. Her husband shares her interest in fitness.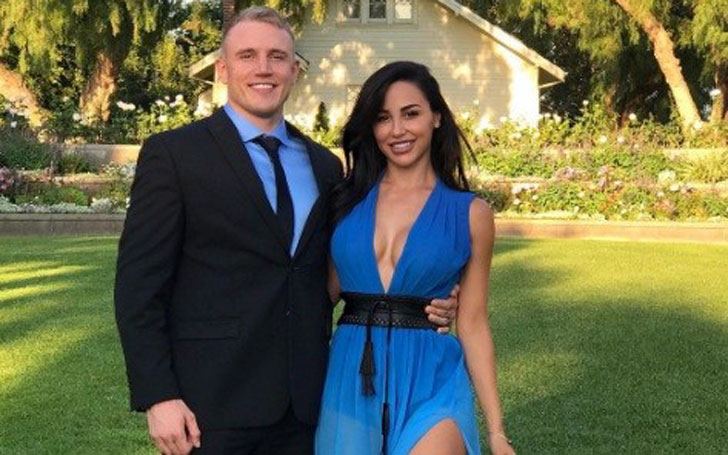 Fitness brought them together. The lucky husband of Ana is a fitness expert and trainer. Together, the couple has written and published several books on fitness. Her husband also co-owns their fitness gym, Be More Athletics. As of now, Ben and Ana still have no kids.
Age and Date of Birth
On May 16, 1986, Ana Cheri was born in Anaheim, in the southern part of sunny California. It is hard to believe just by looking at her that the fitness celebrity is already 35 years old this year.
Ana looks very youthful. Her healthy lifestyle and all those hours she spends in the gym have given her a very youthful look.
Ana does not look a day beyond 30 years old. This shows that maintaining a healthy lifestyle can do wonders for your figure and your skin. You would have to look very closely to search for wrinkles on Ana's face. That is, if she even has wrinkles in the first place.
Height, Weight, Measurements
Ana has to be one of the sexiest women in the fitness world nowadays, and there are many speculations about her measurements.
The petite Ana stands at 5 feet and 5 inches and weighs 55 kilos. Her vital statistics are 34-26-39. For the more curious ones, her chest size is 32C. Now that is indeed a sexy figure.
Plastic Surgery
There has been a lot of talk in the gossip mill that Ana Cheri has gone through plastic surgery on different parts of her body. Beginning with her face, some think that she had her face and lips surgically enhanced.
But if you compare her old photos to her most recent ones, it is clear that not much has changed regarding her nose and lips. Moving on to her body, Ana has one of the sexiest butts out there.
And people are speculating that it is not natural. This is hard to tell because Ana is partly Latina. And Latina ladies have naturally big buttocks. All that exercising also does wonders for the butt. It is hard to tell if she had surgery in that area.
Breasts are another part of her body that is rumored to be surgically enhanced. If you look at her 2015 Playboy magazine photo spread, then you have all the evidence that you need right before your eyes. Now that is the type of research that most if not all men would be more than willing to do.
Based on her 2015 photos, it is clear that Ana Cheri had smaller breasts back then. Indeed, she has surgically enhanced her breasts because they are a lot bigger now.
However, the fitness celebrity is yet to admit to having plastic surgery. Whatever the truth is, Ana undeniably has one of the most impressive figures in the fitness world.
Ana Cheri Wikipedia
Thirty-five years old model is a native of Anaheim, California. Her parents are Alvin and Amanda Cheri. The mixed ethnicity of Ana attributes to her exotic beauty. She is of Native American, Latina, and Caucasian descent. Growing up with brothers, she used to love playing outdoor sports with them.
She can be a girly girl and still give her brothers a beating at outdoor basketball. Ana started modeling at 18, right after high school. Ana went to every audition available, but she only managed to get small modeling stints. Before getting her big break as a model, she worked as a hairstylist.
Hope you people enjoyed knowing her interesting facts in this Wikipedia-type biography.