Australian-born American fitness trainer, T.V. personality, author, and entrepreneur Susan Powter is most known for her catchphrase "Stop the Insanity," that she popularized in her '90s weight loss infomercial.
Let's get a deeper insight into her net worth and her husband. Also, find out what type of scandals she performed.
Susan Powter Personal Trainer/Fitness Expert
Susan Powter became an international sensation in the '80s with a weight-loss infomercial, in which she popularized the term "Stop the Insanity." The video sold over $18 million during its first week and made Susan into an overnight superstar.
Catapulting off her success, Powter came out with her book, Stop the Insanity! in 1993. She subsequently authored half a dozen more books: which include 1994's The Pocket Powter, 1995's Food, 1996's C'mon America to name a few. And her latest book is 2002's The Politics of Stupid.
Of her seven books, three have gone on to become New York Times bestsellers.
Besides that, Susan Powter has been a constant fixture of television talk shows since the '90s. Most recently, she was seen as a judge on the third season of RuPaul's Drag Race.
Before the pandemic hit, Fitness expert Susan was also a well-traveled motivational speaker. Combining a knowledge of nutrition and health borne out of years of working in the field and coupled with her one-of-a-kind personality, when she talked, people listened!
Nowadays, sequestered in her Las Vegas home, Susan imparts her knowledge online via her website susanpowteronline.com.
Susan Powter "Stop the Insanity" Package
Susan Powter patented the "Stop the Insanity" weight-loss package. It comes with five audiotapes, videos, recipes, fat content guides, and a plastic skin-fold caliper to check weight-loss progress.
Through her infomercial alone, the kit sold over 200,000 pieces in its first two weeks. In the subsequent weeks, the kit reportedly sold 15,000 pieces weekly.
Filed for Bankruptcy in 1995
In the mid-'90s, Powter's fortunes took a turn for the worse. Having spent the last few years cultivating her fortune, Susan filed for bankruptcy at a Los Angeles court in January 1995.
In the filing, Susan alleged that most of her earnings went into filling the pockets of her business partners, the businessman-brothers duo of Gerald and Richard Frankel.
Her statement read:
"I may have made a bazillion dollars this year, but the corporation got the money. I have no control of the finances."
She went on to state that she was, quite simply, broke:
"I have a lot of bills. I have children to feed, school tuitions to pay, and it's very hard. ″
The Frankel brothers made a counter-claim that Powter did not keep up her end of the contract and made illegal dealings with outside companies.
Susan Powter listed her liabilities at about $3 million in her suit, including legal fees to cover her lawsuit. Furthermore, she was also $12,000 in credit card debt.
What Happened to Susan Powter?
Personal Trainer Powter disappeared off the face of the earth for a decade from circa 1998 to 2008. Upon resurfacing in 2008, Susan appeared in a variety of talk shows and interviews to explain where she had been for the last decade. Most notably, she appeared out of the blue in the Fox reality show, The Simple Life.
In her sit-down with Advocate.com, Susan explained that she had taken time off her career to be with her son.
She went on to explain that she packed up and left to raise her third child on an island off the shore of Seattle. She further explained that she had grown disenchanted with the "business of the business."
When asked why she was back, Susan explained,
"There's only one reason I come back to work at all: It's called the Internet. There are no boundaries. The speed of light really works for me. It's almost as if the mediums have finally caught up with me. Now there are no layers. I own it now."
Susan Powter Today
Since returning to the spotlight in 2008, Susan Powter has continued leaving an indelible mark in the world of fitness.
Now that all three of her children are adults, Susan can wholeheartedly focus on her career. Currently, Susan is most involved with her self-titled fitness brand, susanpowteronline.com.
Through the website, she sells her patented workout packages. Additionally, she also books one-on-one sessions with her patrons to guide them to the best shapes of their lives.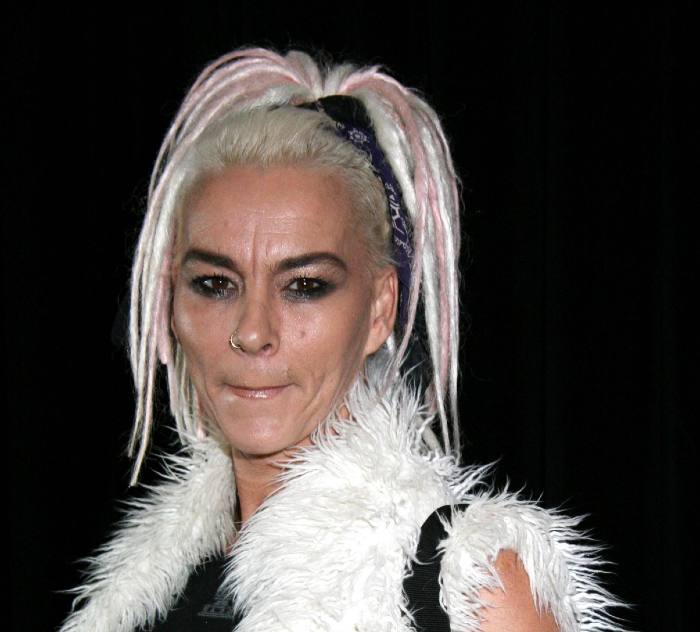 Net Worth and Income
Despite calling for bankruptcy in 1995, Susan Powter regained some of her wealth. She currently has a net worth of around $6 million.
During her 1990s heyday, Susan reportedly had considerably more accumulated wealth. But due to a string of bad business decisions, she was left bankrupt.
Powter built her business back from scratch and currently enjoys a seven-figure net worth.
Her primary source of income is her fitness site, susanpowteronline.com. The online portal features her workout packages that go for anywhere between $12 to $175.
She also books one-on-one sessions that cost up to $100 per session. Additionally, she also holds webinars and online classes for anyone who can cough up $175.
Her Ex-Husbands
Prior to coming out as a lesbian and a militant one at that, Susan Powter was married twice, both of which ended in divorce. Her first husband was Nic John Villarreal, with whom she had her only two biological sons.
Subsequently, after they divorced, Susan married Lincoln Apeland. Their marriage similarly ended in divorce in 1995. Somewhere during her second marriage, Susan adopted her third child.
Even when she was in a straight relationship, Susan's marriage was anything but conventional. At one point, Susan lived in the same house with both her husbands.
According to her, her ex-husband was rooming downstairs while she lived with her husband upstairs. She, of course, was paying for everything.
Coming Out as a Lesbian
Fitness trainer Powter came out publicly as a lesbian in 2004. The news came as a shock to everyone as she had only had straight relationships in the past. Lest we forget, she was married twice – to men. Furthermore, she also had two biological children.
Nevertheless, Susan came out as a lesbian and a "radical feminist lesbian woman" at that. Following her reappearance into the spotlight after a ten-year hiatus, Susan Powter held a Q & A session with Advocate.com. When asked whether she still held her position, Susan had this to say:
"I am the proudest, the most thrilled-to-be-lesbian woman you'll ever meet. I think lesbianism is the biggest privilege. It's one of the finest privileges of my life. Every woman who lays next to another woman and feels life breathed into her — and I just did last week in Phoenix! That's all I have to say."
Her first publicized gay relationship was with singer Animal Prufrock — of the queer punk band Bitch and Animal.
Partner/Girlfriend
She subsequently dated the comedian Jessica Kirson in 2008. Their relationship lasted all of a year. Since then, the 63-year-old has kept mum about her love life.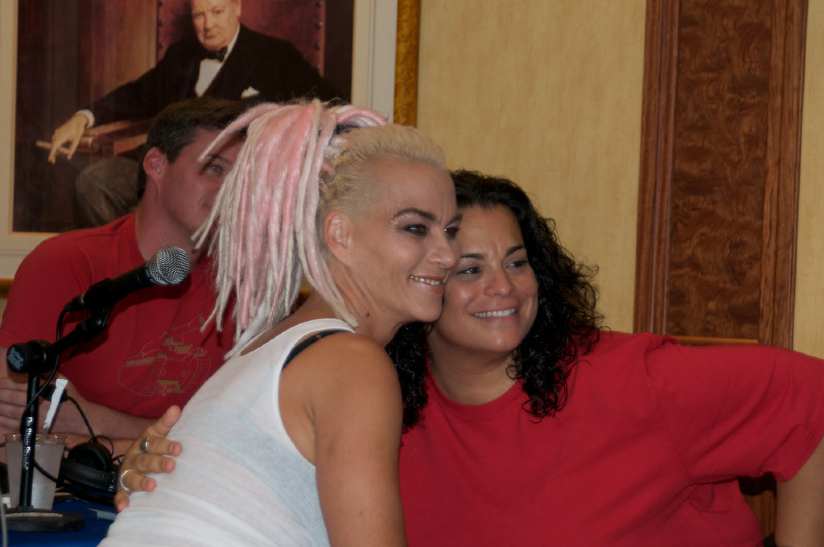 Children
Susan Powter has three children, all sons. She had two biological children with her first husband, Damien Powter and Kiel Powter.
After having two sons, Susan decided not to have any more children. The decision was compounded when her marriage ended in divorce.
Nonetheless, she married for the second and last time. She stuck with her decision not to have any more children of her own.
However, she embarked on a nobler journey and adopted her third child, Gabriel. Gabriel is of African-American descent.
Fraud and Scandals
While there are many who swear by her workout routine, many others believe her work to be fraudulent and demeaning to women. As early as 1997, certain journalists have had scathing things to say about Susan and the "U.S. slimness industry" in general.
Lisa Schwarzbaum, writing for The Baltimore Sun, took on the unrealistic beauty standards set by the U.S. beauty industry.
She singled out fitness experts, including Susan Powter, for "making their sales by" exaggerating the psychological, physical, and moral problems associated with being fat"; diet pills and thigh creams are scams; commercial diet groups such as Weight Watchers rely on "semi-starvation diets," etc."
Wikipedia
Susan Powter was born Susan Jane Powter on December 12, 1957. She is originally from Sydney, New South Wales, Australia. However, she has lived in the United States since the age of 10. Susan is 63 years as of this writing.
By her own admission, Powter came from a dysfunctional family. Her parents admittedly didn't care for her education, and Dominican nuns educated her.
| | |
| --- | --- |
| Information | Details   |
| Date of Birth | December 12, 1957 |
| Place of Birth | Sydney, New South Wales, Australia |
| Birth Name | Susan Jane Powter |
| Famous Name | Susan Powter |
| Age | 63 |
| Profession | Personal Trainer, Motivational Speaker, Nutritionist, Author Entrepreneur |
| Net Worth | $6 Million |
| Married  | No |
| Married To | Lincoln Apeland (? – 1995; divorced), Nic John Villarreal, (? – ?; divorced) |
| Children | 3 |